Most people will know Holland and Barrett as a big retailer and not a weight loss supplement-producing company. With the addition of Holland and Barrett slimexpert weight loss supplement, they have turned themselves into both. Holland and Barrett slimexpert meal replacement shakes are of high quality while being one of the cheapest weight loss supplements currently available.
While Holland Barrett slimexpert is not the best weight loss meal shake out there, it is one of the cheapest options currently on the market. The quality of the shake is quite good for the price and the formula contains a lot of supplements that have been proven to help people lose some body weight.
Holland Barrett Slim Expert Review At A Glance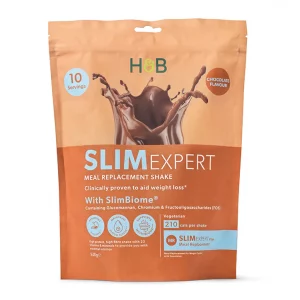 Reputable brand
Cheap
Wide Range Of Flavours
Easily Available In The UK
Low quality
Middling taste
Holland Barrett slimexpert is a weight loss supplement that helps you maintain an energy restricted diet. An energy restricted diet contributes to weight loss by making sure you have a caloric deficit. It's important to stay on a healthy balanced diet if you want to lose some pounds of your body weight.
Holland and Barrett meal shake is not only a great way to help you lose some pounds of body weight, but it's also a good addition to your diet to stay healthy. For a healthy metabolism, it's crucial to prevent inadequate fluid intake. Because meal shakes have to be consumed with quite some water the Holland Barrett slimexpert can help prevent this.
Taste
Taste is a very important factor in meal replacement shakes, especially when you want to focus on weight loss. Sticking to your diet is the most crucial part of losing weight. Holland and Barrett slimexpert meal replacement shake has three different flavours to choose from. The three choices are natural chocolate flavour, strawberry flavour and vanilla flavour.
All of these are made with natural flavouring. In customer reviews, all three flavours get good grades. The rich chocolate flavour is regarded most favourably out of the three. Not only are the flavours described as very enjoyable, also the texture is good. The powder mixes well with liquids and doesn't stay lumpy at all.
That all said there are better options available in terms of taste, but SlimExpert is top tier for it's price point.
Price
One of the strongest points of the Holland and Barrett slimexpert meal replacement shake is its price. It is one of the lowest priced meal replacement shakes on the market when you compare it to an average meal replacement shake. And it is definitely one of the cheapest diet meal replacements specifically aimed at weight loss.
Usually, people would assume a low price comes at the cost of lower-quality ingredients. And unfortunately there is some truth in that.  The Holland and Barrett slimexpert meal replacement shake does skimp out a little bit and isn't quite as nutritionally complete as our number one weight loss meal replacer instant knockout complete and doesn't contain as much filling fibres or protein as well as lagging way behind in terms of micronutrients.
Weight loss
Holland and Barrett slimexpert meal replacement is designed to aid weight loss. If you want to reach a healthy weight the most important thing to do is stick to a balanced diet and a healthy lifestyle. Holland and Barrett meal replacements contribute to the first one. With ingredients that are clinically proven to aid weight loss, increase your fat-burning metabolism and reduce snack cravings.
If you want to lose weight one of the most important things to do is to consume fewer calories. Luckily a portion of a Holland and Barrett meal replacement shake contains only 200 calories. This also makes it easier to choose between small portions of 200 calories or a double portion of 400 calories depending on your needs. It's best to take diet meal replacements alongside a varied and balanced diet.
Another important step to lose weight is to reduce your cravings. If you want to consume fewer calories it helps to reduce the feeling of cravings. There are several things in this diet meal replacement that aim to do just that. This makes achieving your weight loss goals much easier.
Increasing your fat-burning metabolism is also a great way to aid weight loss. This diet meal replacement shake has multiple ingredients that are scientifically proven to help the metabolism in your digestive tract. Green tea extract is an ingredient that focuses on this specifically. Holland and Barrett meal replacement shake also includes medium chain triglycerides that can help increase the number of calories you burn.
SlimExpert Meal Shake ingredients
Let's go check out what SlimExpert contains:
This meal replacement shake has some great ingredients to aid weight loss. Most of these are clinically proven to be effective to aid weight loss. Although this meal replacement shake includes several plant foods it is not completely vegan. Which is a shame for people who want to stick to a strictly vegan diet. However, it does fit into a vegetarian diet.
As mentioned before this meal replacement contains green tea extract. This will increase your metabolism so you will burn calories faster. Green tea extract helps you burn fat by raising your thermogenesis. This means you burn more calories while resting, also called NEAT (Non Exercise Activity Thermogenesis).
This meal replacement shake has a lot of high quality protein in the mixture. This is from whey protein and skimmed milk powder. This is a good source of protein but has one big drawback. It is not vegan and contains lactose. So people with lactose intolerance or those sticking to a strictly vegan diet cannot use this meal replacement shake.
Holland Barrett slimexpert also contains water soluble fibre. One of these fibres is glucomannan. This is a quality supplement that has proven to help people lose body weight. Glucomannan can increase to up to 50 times its original size once it's in your stomach. This helps to give you a feeling like your stomach is full without needing to consume extra calories.
The inclusion of glucomanan is a decent addition to this supplement because it can help suppress your appetite. Suppressing your appetite is one of the most important parts of burning fat. Maintaining a caloric deficit can be very hard, especially when you keep having cravings. Glucomannan can help reduce this considerably.
Holland Barret slimexpert also contains some lesser ingredients. Unfortunately, it lists maltodextrin as one of its main ingredients. Maltodextrin is often used as a buffer in cheaper supplements. High amounts of maltodextrin can cause problems in your stomach. These problems can include bloating and can even be as bad as diarrhoea.
Holland and Barrett SlimExpert Eeview: Conclusion
The ingredients in this powdered meal can definitely help you cut weight. The taste of Holland Barrett slimexpert is better than a lot of its competitors. This great taste will help you to keep drinking it and stick to your diet. Sticking to your diet and supplements is the most crucial part of burning fat.
The meal replacement shake of Holland and Barrett is a good option if you are looking for an low budget meal replacement shake for weight loss. However, if you've got a little bit extra cash then Instant Knockout Complete is a better tasting and more filling option.
If you have a specific vegan diet or are lactose intolerant this shake isn't for you though, because it contains milk in powder form. If price is not your major concern, however there are many supplements available that are of higher quality or fit a specific diet you are sticking to, like vegan and/or keto.