In this Blackwolf pre workout supplement review we look at the ingredients, supplement facts and if it actually works.
This best pre workout supplement ticks all the boxes: Premium ingredients, ample doses, formula synergy, and a quality company. However, the number of pre workout supplements that do have all these qualities are far and few in-between, making it difficult for consumers to pick the right one that is worth their money.
Fortunately, we may have stumbled upon one of the best pre workout supplements yet in BlackWolf.
BlackWolf Pre Workout prides itself as a product that contains proven ingredients at optimal amounts, formulated for energy, focus, and endurance, and is a pre workout supplement endorsed by various elite athletes.
Just how good is BlackWolf Pre Workout? Is it really one of the best pre workout supplements? Read my review to find out.
Black Wolf pre workout at a glance
Quality formula
Hi-potency ingredients
Dosages are on point
Contains BioPerine
Evidence-based ingredients
Caffeine-free option
Only three flavours
No special discount for large orders
Black Wolf pre workout ingredients
What makes BlackWolf Pre Workout one of the best? Let's go check out its formula:
L-Citrulline Malate
L-Citrulline malate is perhaps the most popular and impressive nitric-oxide booster in the supplement industry. What it does is, it improves the body's ability to get pumped up by boosting the compounds needed to produce nitric oxide. [1]
More nitric oxide leads to better blood circulation and more visible vascularity. The better your overall vascularity is, the stronger you will feel and the more likely you can lift heavier and longer.
We also have to mention that we get six grams of citrulline malate per serving, which is really good considering most pre workout supplements only carry about four grams.
Beta-Alanine
Beta-alanine is a common pre workout ingredient and with good reason. It can help with fatigue, strength, and even muscle recovery. [6]
Beta-alanine works by helping the body produce more carnosine, a buffer against lactic acid. When you work out, the body secretes lactic acid to act as a form of "limiter," which makes your muscles sore. Beta-alanine can help delay the onset of fatigue by increasing carnosine-levels which helps "neutralize" lactic acid. This can boost workout endurance, allowing users to work out longer.
Creatine Monohydrate
Creatine Monohydrate is one of the most studied pre workout ingredients in the world, with over 200 studies made just to test its performance benefits for the human body.
Creatine is known to be an ingredient capable of boosting strength, workout results, muscle recovery, and even muscle gains. These qualities make it the most popular pre workout ingredient. [2]
The dosage for creatine monohydrate is actually really good considering it's part of a supplement formula and not a stand-alone ingredient. The only issue we found is how it's not in micronized form. The non-micronized form means you have a chance of feeling bloated, as creatine takes a while to be digested and metabolized in the stomach.
Betaine Anhydrous
Also known as trimethylglycine, Betaine is an amino acid commonly found in beets, hence the name. It's also naturally found in our liver. [3]
In terms of physiological function, betaine works to help the body's natural detoxification processes and fluid balance for cell growth. As part of a pre workout supplement formula, betaine helps boost muscle power, muscle growth, and endurance. It can even promote creatine synthesis.
L-Arginine Alpha Ketoglutarate
Arginine Alpha Ketoglutarate or simply AAKG is a form of arginine that promises to be more bioavailable than typical arginine. It acts more like a citrulline malate support since it's not really that potent on its own for pumps.
Taurine
Taurine is in quite a lot of energy drinks, often in combination with caffeine. As part of BlackWolf pre workout, taurine helps with more pumps by means of cell hydration. This not only boosts performance, but also reduces the likelihood of muscle dehydration and even muscle soreness.
Tyrosine
Tyrosine is a nootropic known to enhance focus. Focus is a big deal in pre workouts nowadays because there are just too many distractions in the gym and even in our own gym bag like phones and social media notifications. Adding focus in really decent doses like the one BlackWolf pre workout has will significantly boost pre workout efficacy.
Coconut Powder
Coconut powder's function here is simple: It helps hydrate and rehydrate cells. This can translate to better performance, endurance, and low risk of experiencing cramps.
We think it's a nice touch given so few pre workouts ever consider hydration as part of the formula.
Caffeine Anhydrous
Caffeine is a familiar pre workout ingredient, but it's often overlooked and underestimated. Given the right formula synergy, caffeine can be more than just a stimulant. In fact, in conjunction with tyrosine and taurine, caffeine can help boost focus and overall muscle power.
Methylliberine as Dynamine, 40% standardized
Dynamine is the premium brand of methylliberine, a caffeine alternative. However, it's not just any other caffeine alternative. It's a premium brand known to give sustained energy minus the stimulant-related side effects.
It also usually doesn't last longer than three hours, allowing users to have a good night's sleep should their workout schedule be around the afternoon or after office hours. [4]
At 125 mg, it helps fill the energy gap caffeine didn't have at 200 mg. We also think that this combo is superior to pure 325 mg of caffeine given you will likely not experience the awful crash.
BioPerine Black Pepper Extract
Rounding out the BlackWolf pre workout formula is Bioperine, the only black pepper brand you should look out for when it comes to supplements. Black pepper can help boost absorption for up to 10 times, making BlackWolf pre workout's formula all the more potent. BioPerine is known for its purity and quality, and we always have to praise supplement companies who add it. [5]
Other Ingredients
Other Ingredients in Blackwolf are specific to the actual flavour and include:
Fruit Punch – Silica, Natural Flavors, Sucralose, Purple Corn Juice Extract (Colour), Acesulfame Potassium.
Green Apple – Silica, Natural Flavors, Sucralose, Acesulfame Potassium, Spirulina Extract, Turmeric Extract
Blue Raspberry – Silica, Natural Flavors, Sucralose, Acesulfame Potassium, Spirulina Extract
Blackwolf pre workout supplement facts
From the label on a single bottle of BlackWolf Blue Raspberry flavour, the following nutritional and supplement facts can be seen as follows:
Serving Size: 1 Scoop (18.5g)
Servings Per Container: 22
Net weight: 408 grams
Ingredient
Amount Per Serving
% Daily Value
L-Citrulline Malate (2:1)
6g
*
Beta-Alanine
3.2g
*
Creatine Monohydrate
3g
*
Betaine Anhydrous
2g
*
L-Arginine Alpha-Ketoglutarate (AAKG) (2:1)
1g
*
Taurine
1g
*
L-Tyrosine
600mg
*
Coconut (Cocus nucifera) [Water] Powder
300mg
*
Caffeine Anhydrous
200mg
*
Methylliberine (as Dynamine 40% Tasteless [Yielding 50mg])
125mg
*
BioPerine® Black Pepper (Piper nigrum) [Fruit] (Standardized to contain 95% piperine)
5mg
*
* % Recommended Daily Value (%RDA) not established
Other Ingredients: Silica, Natural & Artificial Flavours, Sucralose, Acesulfame Potassium, Spirulina Extract
How to take Blackwolf pre workout
For adults, take one scoop, blended with water to taste. Drink 15- to 30 minutes before your workout.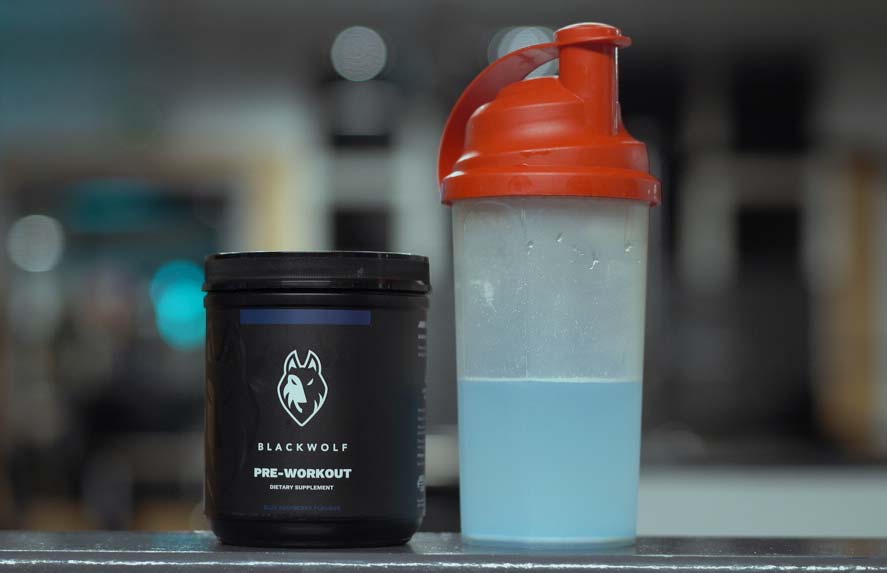 Where to buy Black Wolf pre workout
BlackWolf isn't available on Amazon, but direct from the manufacturers website here.
Pricing options
1 Tub: £29.99
2 Tubs: £59.98
Flavour options: Green Apple, Blue Raspberry, Fruit Punch (Caffeine Free)
My verdict on BlackWolf pre workout
BlackWolf pre workout is definitely one of the best pre workout supplements I've reviewed. It's also one of the more well-rounded formulas in the market, synergizing ingredients for strength, endurance, focus, and energy unlike other products that go overboard on one part and short sell the others.
I like how we see premium ingredients like citrulline malate, arginine alpha ketoglutarate, Dynamine, and BioPerine. These are ingredients you won't see on cheaper or lower quality brands because they're expensive and difficult to formulate without adding to the price tag.
The added touch on having a caffeine-free formula is also really good thinking as we have a growing market of people who are avoiding excessive caffeine consumption. They're not avoiding caffeine because they hate it as much as they already get their caffeine fix through coffee or some caffeine-based energy drinks.
I also like how the entire website and label is transparent. Transparency is a forgotten trait in the supplement industry, and those who aren't afraid to show what they have are often some of the better ones.
The only negative points I have on BlackWolf Pre Workout is the lack of more affordable price options for those who want to buy in bulk. As it is, the website only sells them on a "per 2 tubs" basis with no discount whatsoever. This must be due to limited supplies, but I can't help but feel like the company is losing customers by not having a sort of bundle or promo.
Regardless, I think Black wolf Pre Workout is at the top of the pre workout brand pyramid or at least one of the very best ever. Premium ingredients, formula synergy, and proper dosing for maximum effect, it's going to be tough trying to beat a formula like what BlackWolf Pre Workout has.
BlackWolf FAQs
What is Blackwolf pre workout supplement?
BlackWolf is a pre workout supplement brand that prides itself as something that distinguishes itself from the competition. They rely on evidence-based ingredients and consider the advice of supplement and fitness experts when it comes to formulation, which clearly shows.
Black Wolf pre workout has a premium formulation for pumps, endurance, strength, focus, and energy. They are also proudly Made in the USA (but also ship to the UK) and 100% suitable for Vegans as the formulation is free of anything based on meat, eggs, dairy products, and other animal-derived substances.
Is Black Wolf pre workout safe to take?
According to the manufacturers website, they say the formula is loaded with safe and scientifically backed ingredients at clinically effective dosages. They also say: "Our supplements cause no known side effects when used according to the guidelines. Though, you may notice a slight tingling sensation on your skin as the beta-alanine kicks in. That's when you know you're ready to blast through your workout!"
Do note that this tingling sensation is called paraesthesia or when beta alanine molecules "scrape" your nerves that may cause some mild, temporary itching.
How quickly does BlackWolf take to work?
You should begin to feel the effects of BlackWolf within 30 minutes. For best results, the manufacturers advise that you take the recommended dose 15-30 minutes before starting your workout.
Who should not take Black Wolf?
BlackWolf is suitable for anyone aged 18 or over, looking to enhance their workouts and take their training to the next level.
It is not recommended taking BlackWolf if you are pregnant or breastfeeding.
The manufacturer also recommend consulting with your medical practitioner if you or your family have a history of liver or heart problems or if you are taking any medication.