SuperGreen Tonik describes itself as the "World's First 7-in-1 Formula that enhances energy levels, better mental focus and concentration, sleep, health and immune function, and less anxiety."
"Eat your vegetables," our moms always used to say. As children, we never really understood why our loving mothers would make us eat these bitter, grass-tasting pieces of leaves when we also have candy and chocolates.
As adults, we now know that vegetables can do our body good, with more than a handful of benefits. However, it's not everyday that we get to eat vegetables especially when it comes to availability. It also doesn't help that the prices of some of these healthy foods make it seem like it's punishment for trying to be healthy.
To solve this, many of us have turned to greens powders, and one of the more popular ones is super green supplement.
Can it do what it claims? Read my SuperGreen TONIK review to find out if this is one of the best super greens powders available!
SuperGreen TONIK at a Glance
Vitamins and Minerals scope is wide
High doses of greens ingredients
Multi-functional
Dairy and Soy Free
No Caffeine
NOW AVAILABLE in two flavours: Mint and Berry
Only ships from USA
Some generic forms of vitamins and minerals
Get 10% Discount on SuperGreen TONIK with voucher code: "SUPPLEMENTS10"
SuperGreen TONIK Ingredients
The ingredients in are shown in their proper dosages and this is a good thing. Far too many companies take advantage of serving proprietary blends, hiding dosages from consumers. As a top quality green powder product, SuperGreen TONIK ensures transparency above all.
Vitamins and Minerals
We have a hefty blend of vitamins and minerals, many of which were due to the natural vitamins and minerals content of some of SuperGreen TONIK's ingredients. Some of the more notable ones are Selenium, Vitamin E, Vitamin D, and Vitamin K, key nutrients known to heavily benefit immunity.
Immune Blend
As the name implies, this blend is made up of ingredients designed to help your body fight disease. The most notable one is garlic bulb extract which has been found to exhibit potent immunity-boosting properties in recent studies.
Organic Greens Blend
This blend is composed of spirulina, kale, spinach, barley, chlorella, and horseradish. Other than the potent antioxidant and gut health benefits you would get, these greens also come in really good dosages. Compared to many greens powders that add a lot of ingredients but miss the dosages by a mile, SuperGreen TONIK focused more on density (fewer ingredients, more dose) than volume (more ingredients, low dose).
Stevia Leaf Extract
This is a natural sugar alternative. Other than being 0 calories and being 200 times sweeter than sugar, stevia also doesn't make the body secrete insulin similar to how sugar does. This can help reduce the likelihood of acquiring insulin resistance, a symptom that can lead to Type 2 Diabetes.
Nootropic Blend
Nootropics in general all favor the brain in some way. Some for focus and memory, others for general brain health purposes. For this one, we think SuperGreen TONIK really outdid themselves when they added research-backed nootropics and adaptogens (anti-stress herbs) paired with really good dosages. Notable ingredients are ashwagandha root extract, theanine, and bacopa, three of the best ingredients for stress, mood, and mental clarity.
Black Pepper Fruit Extract
Black pepper is often added to help bioavailability. What we really want is the active compound called piperine, but sad to say this formula doesn't have a standardised black pepper extract, so I'm not sure how much piperine they have.
Supplement facts
As you can see, the list of ingredients is considerable compared to other greens powders, with quality doses and clear label transparency and no proprietary blends in the formula.
According to the official website at SuperGreen Tonik official website at SuperGreen Tonik :
With optimal dosages of every ingredient, our greens drink rises above the rest. Containing 16 superfoods and 18 vitamins and minerals, you can be sure you're getting the best.

In the morning or after a hard day at work, every scoop delivers essential nutrients and a refreshing taste.
Who is SuperGreen Tonik for?
SuperGreen Tonik should be extremely helpful for people who are already getting their fair share of greens and fruits, but want to make sure every nutrient gap is filled.
It's also helpful for those who are avoiding unnecessary junk food or snacking and want a healthier alternative in-between meals.
It can also benefit those who want to feel energised or be in a better state of mind while doing tasks that require focus and memory.
How to take
The serving suggestion is easy. Just take one scoop, mix it in a glass of water or juice, then serve. It's ready in 10 seconds!
How does it taste?
Having tried various other greens powders in the past I was expecting a gritty and unpleasant taste. SuperGreen Tonik isn't either of those. I was surprised that it tasted quite minty which was nice, but it's a bit too sweet tasting for me, which is down to the Stevia Leaf extract.  I only mixed it with water in a regular shaker bottle so I'd suggest mixing this with other ingredients to make a smoothie style drink for example. Adam Wright, the founder of SuperGreens Tonik has some suggestions on how and what to mix greens powder with. You can read about this here.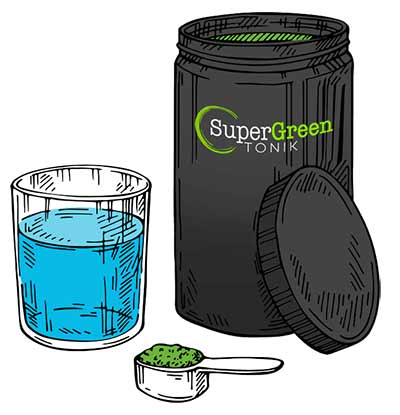 Benefits of taking SuperGreen Tonik
Higher energy levels throughout the day
Good for focus and stress
Can improve immunity
High potency antioxidants
Are there any side effects?
The fact that ingredients are in their organic or natural forms mean the risks of side effects often related to the use of artificial or synthetic compounds are reduced. However, there is always a chance that your body may not be accustomed to this type of supplement, so it could have a rather bad effect on your digestion if you're just starting out.
Testimonials
Some of the best testimonials for this super green can be found on their website. Here's a few we like:
I drink SuperGreen TONIK every day…
…I have so much more energy and greater mental clarity. I am really confident everyday knowing I get the right nutrition for me!" Sean, USA†
Love this green TONIK!
…Been drinking every day for two months and I feel great. Haven't been sick while everyone around me has come down with a cold. I drink it first thing in the morning and I can feel the energy it gives…" Frank, USA†
I have noticed that I am now more alert…
…and my energy level has been pretty good throughout the day….and, I also seem to be getting better sleep." Andrew, USA†
† Results may vary from person to person
Where to buy SuperGreen TONIK
SuperGreen Tonik is only available from their official website.
Buying direct from the manufacturer gives you peace of mind with a 365 day money back guarantee.
Whilst the prices shown on their website are in USD $ you can still buy SuperGreen TONIK in the UK and they will also ship to the UK.
Get 10% OFF
Use the voucher code "SUPPLEMENTS10" for 10% OFF all prices when visiting Supergreen TONIK from Supplements Reviews
My verdict on SuperGreen Tonik
SuperGreen Tonik is a high quality green powder supplement that can help fill nutritional gaps for those who are already on a healthy diet. The product can serve as a healthy substitute to common snacks in-between meals, allowing users to not only reduce their intake of empty calories and junkfood, but also help them build a habit around good health.
The full ingredients label and use of NO proprietary blends shows how much it's a full dosage of the ingredients with no under-dosing. This means Supergreen Tonik can be considered better value for money in terms of strength vs the competition.
Super Green Tonik FAQs
What is SuperGreen TONIK?
SuperGreen TONIK is the World's First* 7-in-1 greens powder formula that can help boost energy levels, mood, focus, and overall nutritional health.
Is SuperGreen TONIK safe to take?
It's safe for consumption, but it's up to your body on how it responds to a high potency greens formula.
How quickly does SuperGreen TONIK work?
It should work really fast considering the ingredients are ground to small particles which should let the body absorb nutrients faster.
What does SuperGreen TONIK taste like?
It's quite a sweet minty taste more suited to the American palate . We recommend mixing SuperGreen TONIK in smoothies or other juices,