Searching for the ideal meal replacement shake can lead you down a rabbit hole. There are hundreds of meal replacement shakes available, but which one best suits your needs? In this article, I will be taking a look at one of the more unique meal replacement shakes on the market, Purition.  
I will discuss the ingredients, the pros and cons, and I will help you to decide whether Purition is the right meal replacement shake for you. 
High in protein

 

Top quality ingredients list

 

Lots of variety

 

Minimally processed

 
Low in calories

 

High cost per serving

 

Needs blending

 

Gritty texture is not for everyone

 
What is Purition?
Purition is a meal replacement shake that contains fewer than 200 calories per serving. It is high in fat (14 grams per serving), low in carbohydrates (3.5 grams), and high in protein (16 grams). It is also quite high in fibre (6.2 grams). 
There are two main options. You can have the original version, which contains whey protein isolate (dairy) and a vegan version that uses a plant-based protein blend (pea, sunflower, hemp, and pumpkin) instead of whey, but is otherwise identical.  
What it does differently from other brands is it chops its ingredients rather than turning them into a powder. This is supposed to allow the ingredients to hold onto more nutrients, but it also leads to the shakes being grittier than usual.  
If you don't mind the grit, then you have a great shake on your hands, but many people find the grittiness to be off-putting. Sadly, this isn't the only negative. At fewer than 200 calories per serving, Purition is not a particularly effective meal replacement shake, and the cost per serving could be a stumbling block to many. 
That doesn't mean that Purition doesn't have its place, though. It is packed full of well-chosen ingredients and could work well as part of a low-carb diet. If you have a decent-sized budget, then Purition can be an asset for certain diets.  
What Sports/Activities is Purition Best Suited to?

 
Due to it being so low in calories, Purition doesn't really fit into an active lifestyle unless you are using it to supplement your diet. It should also be pointed out that Purition is very high in fats, but low in carbohydrates, meaning that it is not ideal for pre or post-workout nutrition.  It's not really well suited to being a weight loss aid as it does leave you somewhat hungry as a full meal replacement.
If you are looking to burn fat, then Purition could fit into a calorie-controlled diet quite well, particularly if you are going for high-fat, low-carb diets.  
Purition Ingredients
There are two main versions of Purition, the original version and vegan. Obviously, these two versions will have differing ingredient lists. But the main difference is in the protein blends. We will provide you with full ingredients lists for each section, and we will differentiate between original and vegan ingredients.
Whole Foods
The whole foods blend is used by Purition to increase the healthy fats and fibre content without increasing the carbohydrate content. Many of the whole foods in this blend are seeds of some description, but there are also a number of nuts. The whole foods are chopped rather than powdered, allowing them to hold on to more nutrients.British chia seeds, Greek pumpkin seeds, European sunflower kernels, Sri Lankan coconut, Californian almonds, British golden linseed, Guatemalan Sesame seeds, South African macadamia nuts, Californian pistachio nuts, European hazelnuts, American pecan nuts, and American walnuts.
Fibre
The fibre blend contains three ingredients. Psyllium husks, apple pectin, and nutritional yeast. There are some health benefits associated with them, which are benefits that come with any form of dietary fibre. Increased satiety (good for weight loss), reduced risk of heart disease, reduced risk of some cancers, and lower cholesterol levels are all health benefits that can be linked to fibre intake.Psyllium husks, apple pectin, and nutritional yeast.
Carefully Selected Proteins
As I have already mentioned, there are two types of Purition, a vegan one and a non-vegan one. The vegan version uses a plant-based protein blend made from: British hemp seed protein, Organic European sunflower protein, Premium European golden pea protein, and Organic European pumpkin protein.This is a very good protein blend, with hemp and pea protein being particularly effective for building muscle. It would have been nice to include some brown rice protein as it complements pea protein so well, but Purition seems determined to avoid carbohydrates.The original version does not contain any plant-based protein, instead opting for whey protein isolate. As whey protein is consistently seen as the best muscle-building protein powder, it makes sense to include it. However, the plant-based protein blend is excellent, so you have to wonder why Purition bothers with an Original and a plant-based meal replacement shake when the vegan shake provides just as much protein and has the same quality. Whey Protein Isolate
Botanicals
Different botanicals are used in different shakes, and some shakes may not contain any botanicals whatsoever. They are used to create natural flavours rather than for their health benefits, but it is not inconceivable that natural ingredients such as ginger and nutmeg will provide some small benefit if consumed regularly.Cocoa, Madagascan Vanilla pods, Coffee Beans, Ceylon Cinnamon, Cardamom, Nutmeg, Curcumin Extract, Ground Ginger, Black Pepper, and Cloves.
Freeze Dried
As with the botanicals, the freeze-dried fruits found in Purition have been added primarily as natural flavourings, but they may also add some small health benefits. They are not going to be highly dosed, as Purition only contains 200 calories worth of ingredients (mostly from the whole foods blend and protein). But, over time, there may be some benefits to consumption. European Strawberries, South American Bananas, EU Blackcurrants, European Raspberries, Polish Beetroot, Japanese Matcha, Spanish Orange, and Sour Cherries.
Sweetness
The sweetness comes from either Stevia leaf extract or coconut blossom sugars, though the latter is only found in the latte flavours. Stevia is often perceived as a natural sweetener, but this is debatable. Particularly when Purition makes a big deal about not using "processed foods". Still, it can at least claim to be somewhat natural. Many people like the taste of Stevia, but there is a growing number of people who dislike it, claiming that stevia has a bitter aftertaste that they do not enjoy. If you are not a fan, then stick to the latte flavours, which use coconut blossom sugars instead. Stevia leaf extract, Coconut blossom sugars.
Who is Purition Suitable for?
Purition has been designed to appeal to the ketogenic crowd, with very high-fat content, medium protein, and low carbohydrate. But the fat to protein ratio is a little off for a true keto diet, so it would probably fit best into a low-carb diet.The use of real food ingredients, the minimal processing, and the claims on the website are aimed at a health-conscious and environmentally conscious populace. But the truth is that Purition can be used by anyone really. They have plant-based and non-plant-based options. They are low-calorie, meaning that they can be combined with most diets (either as a full meal or as a snack), and they should help to improve your nutrition.
Do the Ingredients in Purition Work?
It's hard to judge whether the ingredients found in a meal replacement shake can be described as "working" or not. Whole foods are healthy, and they can contribute to a healthy diet. Does this mean that they are working? Purition does not work as a ketogenic shake, nor is it ideal for weight loss (it is too low in calories). But as a healthy snack, or as part of a healthy weight gain diet, it could be highly successful.
Purition Nutrition Facts
The Purition website provides a full and completely transparent ingredients list, that not only shows the calories, protein, fat etc, but also shows the vitamins and minerals present in each serving: You also get to see all of the ingredients that are used in each serving. It would have been nice to see a breakdown of how much of each food is present, but this is not something that any meal replacement shake shows, so it is hard to fault them for this.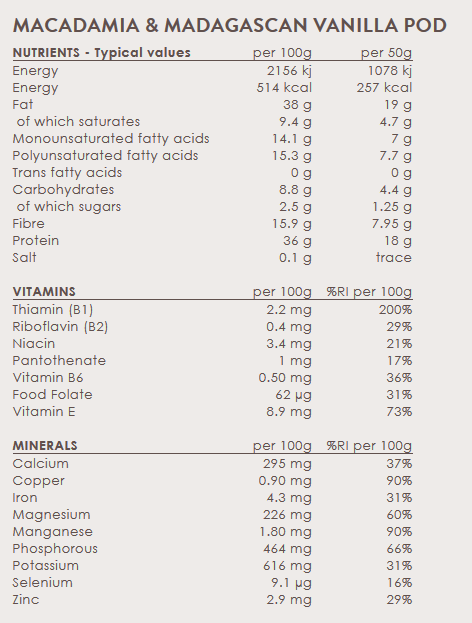 How to Take Purition

 
One of Purition's big selling points is that instead of providing a powder, they provide a fine chop. This prevents their shakes from being over-processed. However, the first step in your meal prep journey is to blend the shake together. 
In other words, you are processing your shake!  
Still, that's not too big a deal. All you do is blend 4 teaspoons of Purition with 200-250 ml of milk (dairy or non-dairy). You can alternatively mix it with yoghurt or add hot water to consume it like you would porridge or oatmeal. 
Remember that adding milk will raise the calorie content (not necessarily a bad thing), but it will also increase the cost per serving (though not by much unless you use expensive dairy-free milk).  
Purition Benefits
There are a number of benefits to using Purition, and it is by no means a bad product. Here are some of the benefits: 
The high fibre content can help to improve gut health

 

The prioritisation of whole foods can help to improve your nutrient intake

 

The protein-to-calorie ratio (64 calories out of 200) is great for building muscle

 
The fats used are incredibly healthy and diverse

 

Purition is an excellent source of vitamin B1

 
Purition Side Effects
The side effects of taking Purition are minimal. As with any meal replacement shake, you may notice some digestive issues to start with. This is due to the high fibre content. Other than that, you should be completely side-effect-free.  
Where to Buy Purition 
Purition can be found easily in the United Kingdom. It is sold on the Purition website, it can be delivered to your home as part of an Ocado shop, it is also available from a number of supplement websites.  
Alternatives to Purition
The most obvious alternative to Purition would be Rootana. This is another UK-based meal replacement shake company that prioritises real food ingredients and avoids artificial ingredients. However, Rootana contains a more reasonable 400 calories per serving and has a great price-to-calorie ratio.  
Ka'Chava is another similar meal replacement shake that has many similarities with Purition, but it also has the same downsides (low calorie per serving coupled with a high cost).  
Purition Review Conclusion: My Verdict

 
Purition has a lot of really cool features. The use of whole foods from diverse backgrounds is really encouraging, and the vegan protein blend is excellently put together.  
But it is not a perfect product. The need to blend your shakes turns the simplicity of meal replacement shakes on its head, and even after a thorough blending, you are still left with a gritty, lumpy drink. 
It is also quite expensive considering how few calories are contained in each serving. This is the exact issue that Ka'Chava has, and it is why Rootana outperforms it. People want their meal replacement shakes to be healthy, delicious, and easy to make. That's the whole point! 
The variety of flavours is really cool, and as a healthy (yet expensive) snack, Purition has a lot going for it. If you are curious, then definitely give it a go, you will either love it or hate it.  
Purition FAQs
Is Purition safe to take? 
Yes, Purition is incredibly safe to consume. All of the ingredients are natural and carefully dosed. Allergens are printed in bold on the ingredients label.  
Is Purition vegan friendly? 
Purition Original is not vegan friendly as it uses whey protein isolate (dairy). However, Purition offers a vegan option that is the same price and in some ways, is actually a better product. This is thanks to its varied plant-protein blend.  
Does Purition contain caffeine?
Only Purition shakes that contain coffee will have any caffeine in them, and that would be a minimal dosage. If you want to avoid caffeine, then stick to flavours that don't mention coffee. 
Is Purition Keto friendly? 
Purition is sort of Keto friendly. It has minimal carbohydrates, high fat, and medium protein. But it would not fit the strict definition of a ketogenic diet food.