A meal replacement shake is designed to, well, replace meals. The idea is to give the body all the nutrients it needs that normally comes in a meal, but you don't have to sit down and take time to eat them all.
Basically, a meal replacement shake's main goal is to save you time, and one of the leading brands out there is Huel.
It's certainly one of the best when it comes to formula and function, but not everyone can afford Huel or have access to Huel in their local supermarkets and health stores, so I've created a list of the 10 best alternatives to Huel.
Supplements come in all shapes and sizes. Whether you need a supplement for weight loss, muscle growth, healthy digestion, brain function, or just something for general wellness, there's probably a supplement brand for that.
One of the lesser known, but steadily rising supplement types in the market are meal replacers.
Read on to find the best alternatives to Huel in the UK.
List of alternatives to Huel
Here is my top 10 list of recommended alternatives to Huel that you can buy in the UK.
The Protein Works Complete 360 Meal Replacement
Optimum Nutrition Lean Meal Replacement Shake
USN Diet Fuel Meal Replacement Shake
Holland & Barrett SlimExpert
Ambronite Keto Meal Replacement Shake
Bulk Complete Meal Replacement Shake
PhD Nutrition Diet Whey Lean Meal Replacement Shake
Find out more about each recommended Huel alternative, their benefits, pros and cons, and where to buy them.
Rootana is a superb meal replacement shake that prides itself on being completely free from artificial sweeteners.  
Like Huel, it is plant-based and packed full of natural ingredients, but the use of naturally occurring coconut sugars instead of sucralose or stevia gives it an advantage over its fellow UK-based meal replacement shake.  
Each shake contains 27 vitamins and minerals, 20 grams of protein, and 7 grams of fibre. Making it perfect for replacing unappetising and unhealthy meals.  
Rootana has a delicious taste, which is influenced by the high-quality oats it uses alongside natural flavourings. It is highly satiating, which means that it is perfect for weight management or even weight loss.  
The cost per serving is low, and Rootana can be made in 30 seconds or less. Because the Rootana taste is subtle and not overpowering, it can easily be incorporated into smoothies helping you to add some variety to your diet.  
Key Benefits
High protein and fibre content help you stay fuller for longer 
Packed full of nutrients to improve your health 
Free from artificial sweeteners, perfect if you want a natural shake 
Pros
Great price per serving
Excellent balance of macronutrients
Vegan-friendly
Good for heart health
Highly satiating
Great tasting flavours
Cons
Only available from the Rootana website
Only a couple of flavours to choose from
Instant Knockout Complete is the ultimate weight-loss meal replacement shake. It is both high in protein and high in fibre. Making it incredibly satiating, which is beneficial if you are trying to lose weight.  
Complete uses the best quality ingredients for any meal replacement shake, particularly one that contains 400 calories per serving. Its use of healthy fats is outstanding, with MCT oil providing you with the majority of them. 
Instant Knockout was originally designed to help boxers, and MMA fighters lose weight safely before a weigh-in, which is why the protein content is so high. Fighters cannot afford to lose muscle while dieting, so high levels of plant-based protein is essential. 
Ingredients such as chia seed, golden flaxseed, and organic brown rice are chosen to help improve your health and help to give Complete its excellent protein, fibre, and fat content. 
Key Benefits
Top quality healthy fats from MCT oil
Complete is highly satiating, making it perfect for weight loss
Very high in protein, which can help with building or maintaining muscle mass, even during a calorie deficit
Pros
Very high in protein
Very high in fibre
Full of healthy fats from quality sources
Great tasting
Combines perfectly with Instant Knockout's other brand Cut
Cons
Only one flavour (vanilla) is available
Only available from the Instant Knockout website
The Protein Works Diet Meal Replacement Extreme
My thoughts
This product by The Protein Works is one of the best contenders for best Huel alternatives. In fact, it's a tier higher than others.
What makes Diet Extreme a great meal replacement is how nutritionally packed it is, while making sure it's compatible with a low calorie diet.
Diet Extreme contains no less than 23 essential vitamins and minerals, is high in protein and fibre, and is exactly 200 calories per serving.
They offer both 100% vegetarian and vegan varieties, so they're serious about casting a wide net.
The best part? They make use of sustainable ingredients, which helps you give you that guilt-free feeling with each scoop.
Don't take our word for it. Check out Diet Meal Replacement Extreme yourself and find out why it's not just a great meal replacement, but also one of the best Huel alternatives.
Key Benefits
Really high in protein to help with muscle growth especially if you're into weight lifting
One of the best meal replacement shakes in the market
Contains ingredients that help with gut health like glucomannan
Pros
High fibre
High protein
Low calorie
Low fat
13 Flavours
Cons
No gluten-free option
Best price is only available with subscriptions
Optimum Nutrition Lean Meal Replacement Shake
My thoughts
The word "lean" maybe on the label, but the formula is anything but lean. It's full of all the goodies you expect from a high quality ingredient list while maintaining a strict 200-calorie range.
The formula contains MCTs, Inulin as a fibre source, and whey protein concentrate.
Their high quality formula and the fact that it's made by ON makes Lean Meal a suitable alternative to Huel.
Key Benefits
ON is one of the, if not the, biggest supplement name in the industry, so quality is practically assured
High protein, but with low calories for those who want to lose weight while building muscle
For fitness enthusiasts who prefer whey sources over plant protein
Pros
Primarily helps with weight loss
Low in sugar
Only 202 calories per serving
Cons
No vegan alternatives
Contains gluten and may have traces of nuts, egg, and peanuts
The Protein Works Complete 360 Meal Replacement
My thoughts
There is Diet Extreme and there is Complete 360. The former is ideal for those who want to mimic the nutrients of a healthy meal while maintaining a low-calorie lifestyle.
Complete 360, on the other hand, wants you to literally have a nutritionally healthy meal.
It is 400 calories per serving, made of premium whey which are sourced from grass fed cows, low sugar and fibre-rich, and manages to taste great without adding anything artificial to boost the flavours.
And like Diet Extreme, Complete 360 is guilt-free when it comes to environmental waste.
If you're looking for a heavy meal replacement powder, look no further.
Key Benefits
Whey based and vegan alternatives
30 grams protein can be both filling and great for muscle growth
Contains ingredients that can help you lose weight
MCT powder for that extra burst of energy for the toughest workouts
Pros
Plenty of flavours to choose from
Most customers say they love the taste
Over 30 grams protein per shake
Affordable
Cons
No gluten-free option
Best price is only available with subscriptions
PhD Nutrition Diet Whey Lean Meal Replacement Shake
My thoughts
Having the letters "PhD" in anything makes it sound professional, and that is my impression of PhD Diet Whey Meal.
It is formulated to mimic the nutrition of a well-balanced meal while also having a lower calorie count at 210 calories.
You can neatly sub this product in place of all your meals, but it seems to be best suited as a substitute for the snacks you often eat when you're busy or bored.
Key Benefits
Combines plant and milk protein sources
Contains ingredients that directly help with weight loss
Matcha Green tea for that added antioxidant boost and fat burning
Pros
Up to 26 grams protein
Low in sugar
Formulated for those who want to reduce some numbers on weighing scale with just 210 calories
100% recyclable packs
Cons
Only 4 flavours
No vegan option
Not gluten free
May contain allergens
Holland & Barrett Slim Expert
My thoughts
Holland and Barret may be a retailer, but they also have some neat supplements of their own, and one of them is SlimExpert meal shake, and this meal shake might just be the best cheap alternative to Huel.
However, just because it's a cheap alternative doesn't mean it's low quality.
It's got a good dose of fibre, MCTs, natural flavours, glucomannan for gut health, and some slow burning carbs. All of this while helping you maintain a 200-calorie intake per cup.
Key Benefits
Fairly cheap
Buy one and get the second item at 50% off
Holland & Barrett Slim Expert is the best cheap alternative to Huel powder
Uses medium chain triglycerides that can promote nutrient absorption and suppress appetite
Pros
High fibre
Formulated to help with weight loss
Only 206 calories
Cons
Not really a popular brand
Lists maltodextrin as the first ingredient. Maltodextrin is a buffer and high amounts can cause stomach problems like bloating and even diarrhoea
USN Diet Fuel Meal Replacement Shake
My thoughts
Dietfuel is USN's flagship meal replacement for those on a weight loss journey. It's not the first time USN made a fat burner hybrid.
In fact, some fo the most popular fat burners in the industry are from USN, so their market experience gives them a slight edge over newcomers trying to be the next Huel alternative or Huel powder.
It's strictly 200 calories per serving, uses a special protein blend made of whey, soya, and milk, plus fibre for that added appetite suppressant effect with each cup.
And, many customers say their natural flavours help give the product a delicious taste.
If you're looking for a proven industry leader when it comes to weight loss supplements, USN Dietfuel can be the best meal shake for you.
Key Benefits
One of the best brands when it comes to supplements in general
Low calorie protein shake for those who want to lose weight without losing gains
Pros
Low calories
Good for weight loss programs
High protein content from a blend of whey protein concentrate, soy protein isolate, milk protein isolate, and whey protein isolate
Cons
Ingredients aren't directly beneficial for weight loss
Some customers note poor taste or consistency of the shake
Ambronite Keto Meal Replacement Shake
My thoughts
I'm not entirely familiar with Ambronite, but from what I'm seeing, it seems to be one of those who base their entire brand around being all-natural, plant-based, and GMO-free.
They also advocate for more healthy meal replacements and diets that are stomach-friendly and eco-friendly.
From that information, you can say Ambronite's Keto low calorie meal replacement is as guilt-free as it is a complete meal.
They use pea protein, chia seed, MCT powder, and even the likes of Spirulina and live bacterial cultures, two rare ingredients not found in your typical protein shake.
If you're looking for a "clean" and "eco-friendly" Huel alternative, Ambronite's Keto Meal might just be it.
Key Benefits
High quality ingredients, free from artificial additives, and GMO free
Customers say it tastes amazing
Complete plant protein blend is sourced from pea protein, sunflower seed protein, and pumpkin seed protein
Uses MCT powder for energy and more ketones
ProbioVita as a probiotic for optimal gut health
Pros
Formulated for those doing a keto diet
GMO free
Plenty of omega-3
High quality proteins and carbs
Sourced from real food and plants
Buy in bulk for better savings
Cons
Premium formula means premium price
Relatively high sugar content for a keto supplement
Not nutritionally complete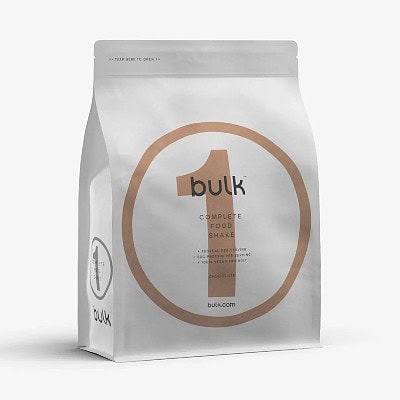 Supplement packaging has traditionally always wanted to get your attention an aisle away.
However, times are changing and people are now starting to prefer supplement packaging that's good for the environment, and Bulk 1 Complete Food Shake does that the best among the Huel alternatives we have on this list.
Beyond their advocacy for the environment, Bulk is also known to produce high quality formulas and their meal replacement is no exception.
It's powered by 100% natural plant sources including pea, sweet potato, and avocado, making it suitable for vegans or those on a plant-based diet.
Key Benefits
An ideal Huel alternative if looking at the macros and ratios
About the same price as Huel
Uses vegan protein
Can be part of an overall healthy diet
Home-compostable packaging for that extra bit of environment conservation effort
Pros
High protein content at 30 grams
High fibre and low sugar
Vegan
Zero waste advocacy
Contains digestive enzymes and live cultures
Branded ingredients in the form of KSM-66, Wellmune, and Lutemax 2020
Cons
Only three flavours
Some may not notice it due to simple packaging
No discounts for subscriptions
What are Meal Replacement Shakes?
Meal replacement supplements are formulated to contain all possible essential nutrients plus ingredients that have health benefits.
The full intent is to have all the nutrients a typical meal would have and more.
Most products contain anywhere from 200 to 400 calories, with more than a decent amount of protein plus fibre.
Some meal replacement shakes also add healthy fats in their formula. A lot of them are vegetarian, vegan, and gluten-free and GMO free too.
They're available in all sorts of flavours, colours, with some even coming in fancy shake bottles or cups. They can be considered supplements or actual meal replacements, depending on the consumer.
Meal Replacement Benefits
Why should you buy a meal replacement shake? Here are some of the benefits:
Can help you save time
As the name implies, drinking a meal replacement is meant to replace an actual meal.
The key difference is the time invested, with a meal replacement taking literally maybe up to five minutes compared to a real meal which can take a minimum of 30 minutes to prepare and eat.
Then, we also have to consider the time used in washing the tools used when we eat.
If you take meal replacements, you'll only really need a spoon or scoop and a big cup. With a regular meal, we have plates, pans, spoons and forks, maybe even a knife and more.
This is why the best meal replacement should always help you save time.
Budget-friendly
Meal replacers are barely £2 per serving, which says a lot considering going out for lunch can cost you upwards of £10 per day.
By taking a meal replacer over real food, you are effectively saving 80% of your lunch money.
Even if you were to take two servings of meal replacers, you're still looking at £4 per meal or £6 savings per day on average.
Moreover, the real food you usually eat may not even be as healthy as a meal replacer.
They can help lose weight
One of the primary reasons people take supplements is to lose weight.
In a time when being overweight is normal and obesity is the new "big boned," products that help a person lose weight will always have a market.
The best meal replacement brands will contain one or two ingredients guaranteed to help you in your weight loss journey.
At the very least, most if not all meal replacements have fibre that always helps people lose weight.
Then, we also have to mention how the calories are often lower than a typical meal.
Add that to the fact that you get to actually control your caloric intake per meal. This lets you avoid those "hidden" calories in sauces, dips, seasoning, and other sources of calories.
Helps to improve daily nutrient intake
If nothing else, meal replacements are considered nutritionally complete food.
After all, they are meant to replace at least one meal per day, so companies ramp up the nutrient content.
Not to mention the other healthy ingredients in the formula that can improve your overall health and wellbeing.
Meal replacements help with digestion
The best products should always be good for digestion. They often contain digestive enzymes, fibre, and maybe actual ingredients known to boost nutrient metabolism.
After that, the best brands are often in a semi-liquid form or at least easily mixed into this state. This means our stomach won't have a difficult time breaking down nutrients for absorption and metabolism.
What is Huel?
The people behind Huel describe the product as nutritionally complete food that has all the 27 essential nutrients plus essential fatty acids, carbs, fibre, phytonutrients, and of course, protein.
It's one of the most popular meal replacers in the world, selling over 50 million products a year in more than 80 countries. Research estimates about 1.5 million people are buying and taking Huel over regular meals.
What's inside Huel?
Huel has:
110 Calories
Contains 20 grams protein
Has 27 essential vitamins and minerals
Costs £1.25 per serving
9 grams essential amino acids
5 grams branched chain amino acids for lean muscle mass
Contains curcumin and piperine
Vegan
No artificial colours or additives
Made from plant based protein sources like hemp protein and pea protein
Based on what I found, it's going to be tough looking for the best Huel alternatives. However, I am confident that there's at least one or two meal replacers out there that can be considered a good alternative to Huel.
Meal Replacement Comparison
I have compared the main meal replacements available in the UK with more to come. There is a mixture of the 400 calorie, high carb, high protein alongside the c.200 calorie weight loss and lighter meal replacements.
Which is the best meal replacement for me?
I have provided the main comparison for you to decide which is or are the best meal replacements for you.
What to look for in a meal replacement shake
Let's first take some time to review what a consumer should look for when choosing the best huel alternatives.
Shopping for a new gadget or tool requires a lot of tinkering and maybe online research, just so you know you're buying the best that you can afford. It's the same when it comes to meal replacement products.
What should buyers expect to see when shopping for the best meal replacement products? Here are some of the critical ones to watch out for:
Macros
You have to know your macros, and it's important to see if the meal replacement you're wanting to buy contains all the macros you need for one meal. And to reiterate:
One meal, not one day. Some people mistake meal replacements as the one meal they will have the entire day, but they're not supposed to function as your only source of daily macros.
Of course, the macros people need differ with lifestyles, eating habits, body type, and general health needs. A good way to measure is to make sure the macros found in the product you're looking at is at least 1/3 or maybe 1/4 of your daily needs.
Calories
Calories are particularly important for those who buy meal replacers to lose weight. There are many types of meal replacers, and a good majority of them are within the 250-400 calorie range.
For most people on a weight loss journey, this range is good enough as they will simply reduce calories in other places (or alternatively, burn more per day).
There are a few "diet" meal replacers that are still nutritionally complete, but with a much lower total calories intake per serving. They are typically between 110 and 210 calories per serving, but do note that these may not be meant to fill you.
Nutrients
If you're going to replace real food ingredients with a meal replacement product, you have to make sure the quality of nutrients you will receive is either the same or better.
This matters a lot to those who want to build lean muscle mass or growing muscles through heavy exercise, as the nutrients their muscles need are more specific than the average gym goer.
Then, you also want a few extra nutrients, such as digestive enzymes for proper metabolism or fibre for easier digestion.
Additives and Allergens
Additives and allergens nitpicking in this category of supplements is more to do with what your body can tolerate.
In the same way we avoid foods or substances that we are allergic to, we also need to avoid meal replacers with ingredients that our body can't tolerate.
For people who are allergic to soy, they should avoid those with soy protein isolate or the other soy protein types.
For those allergic to dairy, avoid eggs or any type of whey protein isolate and look for dairy free certificates.
If your body can't tolerate gluten, then look for the label that says gluten free. Basically, just be on the look-out for stuff your body always hates.
The best huel alternatives will always have the proper labels for consumers to easily decide if this huel alternative is good for them.
Safe to say, it's why many brands you can consider a huel alternative are going for a plant based protein blend, as plant proteins like hemp protein, brown rice protein, and yellow pea protein don't really have problems with allergies.
Who should take Huel and similar products?
The idea that you can get a complete meal with just a scoop, a glass, and some water appeals to people who need every minute of every second of their day.
Then, we also have those who want to have a more transparent way to manage their weight or macros and see these products as perfect for their lifestyle.
Lastly, we also have the fitness buffs who see food as natural supplements and take meal replacers as a means to get stronger or healthier.
Regardless of your reason, taking meal replacers is rarely a bad thing and the benefits just outweigh the drawbacks if there are even any.
References
Guo X, Xu Y, He H, et al. Effects of a Meal Replacement on Body Composition and Metabolic Parameters among Subjects with Overweight or Obesity. J Obes. 2018;2018:2837367. Published 2018 Dec 26. doi:10.1155/2018/2837367
Davis LM, Coleman C, Kiel J, et al. Efficacy of a meal replacement diet plan compared to a food-based diet plan after a period of weight loss and weight maintenance: a randomized controlled trial. Nutr J. 2010;9:11. Published 2010 Mar 11. doi:10.1186/1475-2891-9-11
Huel alternatives FAQs
Is there anything like HUEL?
The closest to Huel is The Protein Works Complete 360 Meal Replacement amongst others on my top list of alternatives to Huel.
The nutrients in one scoop are similar, the calories aren't that far from each other, and the quality of ingredients used is really almost parallel with each other.
The key difference that will make people buy one over the other is price, and Complete 360 is a cheap alternative that is also just as good as Huel.
Is HUEL just Soylent?
Huel and Soylent are from two different companies, but Soylent pioneered the meal replacement trend. The biggest difference is the medium they come in as meal replacement products. Huel comes in what is now considered the traditional medium that is a ready-to-mix powder. Soylent is popularly known to be a ready-to-drink meal replacement product.