The best Shakeology alternatives are searched by those that primarily like using meal replacement shakes within their everyday diet and lifestyle routine.
Most people take meal replacement shakes as a way of weight loss of course, however others can take meal replacement shakes to up their essential nutrients and hit more protein for maintenance or weight gain. So, in reality there are many motivations as to why people take these powerful supplements within their regime.
Whether you are here primarily to have more options and discover new meal replacement choices to add to your dietary intake, or perhaps you have realised, expensive meal replacements like Shakeology no longer fit the budget criteria you want to spend on meal supplements, I have compiled a list to help you make the right choice for a Shakeology alternative.
Expect some critical evaluation for each of the best Shakeology alternative options I have listed. I wanted to do all the lengthy back work and research process for you, so you would not have to! Just a little reminder before you jump head first into this in-depth review of meal replacement shakes-they always should be carefully incorporated within a healthy diet and lifestyle.
Making sure you give your body the essential nutrients is definitely no joke, therefore integrate these shakes to a tracked intuitive diet, that ensures to supplement all the macronutrients and micronutrients that your body needs to function at optimal level for long term health. If you are unsure on how to use these meal replacement shakes, consult with a nutritionist about compiling the ideal diet for you and your body.
List of alternatives to Shakeology
Here is my list of recommended alternatives to Shakeology that you can buy in the UK.
PhenQ Complete Meal Shake
Foodspring Shape Shake 2.0 Meal Replacement
The Protein Works Diet Meal Replacement Extreme
USN Diet Fuel UltraLean
Protein World Slender Blend
SlimFast Advanced Vegan Vitality Meal Replacement Shake
Garden of Life Raw Organic Meal
Find out more about each recommended Shakeology alternative, their benefits, pros and cons, and where to buy them.
Best Shakeology alternatives at a glance
Below are a selection of the best Shakeology alternatives that pass as great meal replacement shakes for everyday use, that I particularly like.
PhenQ Complete Meal Shake: Nutritionist's Pick
Why this is my favourite and what it has to offer you
PhenQ is the latest meal shake on the market that offers a 100% plant-based shake supplement for those looking to shed some weight. The ingredients list is very unique and special for the market today, being that it is predominantly aimed as a keto diet meal replacement shake. The combination of significant ingredients such as Innoslim, Ashwagandha, Pea Protein and MCT coconut oil, are what make this superfood formula innovative and exceptional as a meal shake in this day and age.
The plant-based superfood active components in this shake have been clinically proven to aid fat burning, when in the state of ketosis (MCT Oil andInnoslim), in addition to significantly aid suppression of appetite during weight loss efforts. Ashwagandha has also been proven within clinical trials to increase endurance and muscle strength exponentially, in addition to reducing stress levels that motivate the body's natural mechanism to stress eat. So by taking this shake you should definitely notice an extra boost to your step, despite being on a keto diet.
Any irregular digestion issues for the future can also be forgotten by taking this formula, as the 100% plant-based ingredient list means that you should find PhenQ pleasant to digest, with its proven 94% digestibility rate. All the nutrient goodness will immediately get absorbed into your bloodstream, without any trouble or upset stomachs!
Features and benefits
Only 269 calories per serving.
Keto-friendly and low in sugar content.
Perfect for those on a keto diet, that are looking for a meal shake to supplement the diet regime without hindering their success.
You have your 24 key vitamins and minerals in one serving.
16 grams of vegan protein per serving.
13 grams of MCT oil which have been proven to maintain good bacteria within the body as well as having antimicrobial and anti-fungal effects.
Boosts your natural energy and brain function throughout the day.
Provides a 60-day money-back guarantee if you do not absolutely love it and see the results you want.
Subscription to PhenQ meals provides resources such meal recipes and special discounts towards PhenQ unique brand deal products.
Foodspring Shape Shake 2.0 Meal Replacement
What I particularly like about Shape Shake 2.0
Shape shake 2.0 by Foodspring, is one of the most loved meal replacement shakes within the UK. It has such a reputation within the weight loss community, that many health driven individuals have also sought the supplement to ensure they are getting the well-rounded nutrition they need.
The gluten free formula contains all the necessary digestive enzymes, essential amino acid profile, dense filling fiber to sustain satiety, and most importantly, it has a low sugar ingredient list, which is rare for many supplements brands these days that try to keep their shakes as low calorie.
The fact that Foodspring have avoided artificial sweeteners and have filled the shakes with what would usually compose a whole meal, puts you at ease and confidence for taking this each and every day.
Unlike many other low calorie meal replacement powders, this one is equivalent to a regular meal for a go-to lifestyle. While there is a Meal shake by Foodspring, which builds on the 2.0 principles, if you are looking to lose weight, this is certainly the shake for you. It can be flexibly adapted to suit the different lifestyles of those taking it.
Features and benefits
Gluten free ingredients list.
It is not artificially sweetened.
Vegan formula available as an alternative.
Contains all the vital essential vitamins and minerals.
Contains the essential Omega-6 fatty acid (linoleic acid).
23 grams of protein per serving, made from grass-fed milk.
18 essential branched chain amino acids within each serving.
Made with digestive enzymes to support digestion and metabolism.
Available in 7 delicious flavours that can be combined with water.
European regulatory approval to support weight loss or healthy muscle weight gain.
You can use this for as much as two times a day for a complete meal replacement and rounded nutrition.
The Protein Works Diet Meal Replacement Extreme
What I like about this product
The Protein Works Diet Meal Replacement Shake is a perfect candidate, if you are looking to manipulate your servings according to the health goals that you have. What is absolutely clever with this formula however, is the use of ancient medicinal herbs, to supplement the shake with the nutritionally complete profile that is desirable for the health conscious.
The mixture of fast and slow absorbing proteins, in addition to slow releasing fibres, make it a perfect meal substitution without question. You could take two shakes of this a day-one post workout, and one as a pre-bed meal replacement shake, to target both the fast absorbing and slow absorbing proteins, at their optimal efficacy for your hunger and your muscle gains-yay!
This formula will wave goodbye to any cravings that you may have, by keeping you away from the kitchen in between meals; and put away the snacks that seem to always try and sabotage your efforts.
Fun fact
Did you know that some of the main ingredients such as Glucomannan, Green tea extract and carnitine are known to contribute towards your body's fat burning?
These are popular fat burners used within the health and wellness industry. Glucomannan for example, is a very staple substance to use in supplements, as it is known to absorb large masses of water and become very viscous within the gut. The gel formed within the gut, will release slowly within digestion, and minimise hunger throughout the day.
Studies have shown how Glucomannan accommodates weight-loss regimes much more significantly, as it has lowered hunger and dietary intake within clinical studies by 38%. [1]
Main features and benefits
Contains 24 grams of protein per serving.
100% Vegetarian, with a vegan alternative available too!
It is nutritionally complete-all the essential minerals and vitamins are included within the each serving that you take i.e. B vitamins.
High in insoluble fibre (Glucomannan) to keep you satiated throughout the day, until your next meal!
Pick from 13 different flavours that all have an exceptionally long shelf life.
Contains healthy fats to support the body's cell building and metabolism.
Low in the unhealthy hydrogenated fats (that contribute to high cholesterol).
The meal replacement powders can flexibly be integrated within other recipes, milkshakes etc.
My thoughts
USN Diet Fuel Ultra Lean is probably one of those meal replacement shakes that everyone has to try on their journey of bettering their nutritional dietary intake. Not only is USN stocked on multiple health supplement platforms (meaning it is widely accessible), the shakes themselves are accommodating to every health driven goal out there on the market.
The high nutritional profile will go hand-in-hand, to make sure that nothing is missed when you incorporate this in a tracked and nutritionally mindful diet.
The taste of these USN Shakeology alternative protein shake options are very concentrated, meaning you will not have to make do with light and watery flavours that other Shakeology substitutes can offer.
Similarly to its other competitors on the market, you can take this nutritional shake two times a day, and should still be able to lose weight, provided you track the numbers! There have been considerable reviews for this product, with many success stories of how this is a great meal replacement shake to support weight loss driven goals.
What are the most notable benefits of taking this?
Contains 25 grams of protein per serving-with low calorie uptake.
Chromium is used as a mechanism within the shake to manage blood sugar levels and overall appetite control.
No artificial sugars to play with blood sugar and energy levels throughout the day.
High fibre content to hold satiety for longer in between main meals.
There are vegan alternatives for those that eat plant based or have dietary requirements.
Gluten free ingredient list which makes the formula very accommodating to a larger market.
The 5 available flavours are versatile and can be drunk with water or milk, depending on the consumer's choice.
Protein World Slender Blend
What I like about this alternative to Shakeology
Protein World is a brand that you will definitely have seen within your local supermarket and pharmacy. This protein shake in particular has been created perfectly for those looking to hit the essential macronutrients even when they are on a calorie restricted diet, and are not looking to sabotage their goals with an excessive energy intake.
With fast and slow absorbing protein sources within the formula, you will find that this could be easily used post workout, first thing in the morning, or the last you drink before bed. It is adaptable to you and your lifestyle, which makes it a complete hit from myself.
Multiple reviews showcase how users have felt their immune system strengthen from taking this, in addition to shiny hair, strong nails and radiant looking skin. That is what you get when you combine some of the best vitamins and minerals in one shake!
Key Benefits
The formula is made to cater to larger dietary requirements- suitable for vegetarians, vegans/plant base and gluten free.
The nutritional shake provides well-rounded nutrition and is perfect for a regular meal substitution.
There are only 143 calories per superfood supplement serving, the lowest from all other listed candidates!
Covers the essential 26 minerals and vitamins for the body.
Plant-based yet, it still contains 24 grams of protein per serving.
19 flavours available in total-whoa!
SlimFast Advanced Vegan Vitality Meal Replacement Shake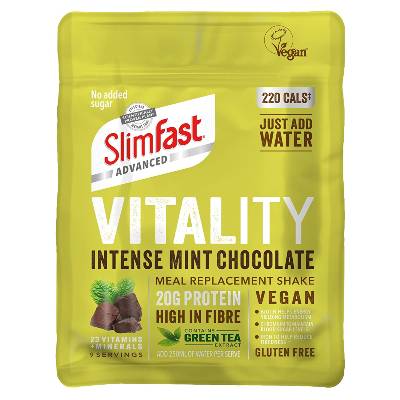 What I like about SlimFast
SlimFast is one of the many meal replacements that have been on the market for a very long time now. Originally the brand had very few options that catered to people with different dietary requirements, yet today, they offer most needs in one formula! Each shake appeals to different markets and this in particular is perfect for those that have an all plant-based diet, or suffer from certain allergies/digestion issues. The soy-based protein is used as an alternative to their mainstream whey protein powder meal shakes.
This shake is perfect for those looking to keep gut-health in check, as the high fibre content and additional digestive enzymes, should certainly make sure to sustain digestive processes efficiently, over long-term usage. Due to the fact most of the carbohydrate content is fibre dense, the carbohydrate ratio should be sufficiently low for those conscious to keep this macronutrient in check.
With the mixed flavours available, there are appropriate meal alternatives to mix-up your every day meal choices e.g. breakfast meal shakes, dessert meal shakes and so on. This SlimFit series is super high quality and innovative for the market today, making it one of my personal favourites from this series.
What health benefits and features should you look out for?
This SlimFast range is entirely vegan, gluten free and is a perfect alternative source for the main essential nutrients that you need within dietary intake.
High quality soy protein isolate as its main protein source.
High source of dietary fibre-great for satiety and fullness in-between meals.
Perfect for calorie deficit diets that still need to be macronutrient complete.
Less costly meal replacement prices in comparison to other vegan competitors on the market.
Garden of Life Raw Organic Meal
What I like about Garden of Life
Garden of Life meal replacements has made huge headlines for being the most organically sourced and intuitive ingredient list combination. This shake is probably one of the best options within the list, as it is the most practically applied meal shake and Shakeology alternatives on the market today. What really makes this product stand out is the high quality that has been maintained throughout its entire food chain manufacture.
Another thing that puts this on top when compared to Shakeology shakes and other meal replacement shakes, is the fact this actually contains probiotics, in addition to enzymes. We all know that calorie deficits can sometimes have us neglecting certain nutrients and supplements. So, to know that you have such well-rounded ingredients here- could this be your next best Shakeology alternative from the mix I have provided? Suppose you will have to taste and test for yourself!
What features personally stood out for me
The formula contains recommended live probiotics and enzymes supplement intake within the formula (1.5 billion CFU).
The entire shake's ingredients list is organically sourced with no artificial sweeteners, flavourings or preservatives.
One of the most nutritionally focused shakes on the market-meeting all the essential nutrients for a meal.
All the main food allergens are not included within the ingredient list i.e. gluten, dairy and soy.
What is in Shakeology?
For those that have never actually come across Shakeology and are browsing for a great supplement to have in between meals, as snacks, or meals, Shakeology will most definitely have popped up in your search as a possible candidate. While the promotional work supporting it can make it seem very promising, there are many cons to it that can be much better solved and accommodated by the top alternatives listed above.
Shakeology is a protein shake that can also replace a meal within your dietary intake. The company which established this series of meal replacement shakes are called Beachbody, and they have an additional fitness programme that they try to market alongside the shakes, with the overall aim of losing weight.
Why is Shakeology so expensive?
The Shakeology product itself has many people hesitant on buying, due to it being one of the most expensive meal replacements on the market today. At $129 for just a 30-day serving supply, it certainly cannot be sustainable for everyone to actually afford it, especially if you are looking to take this on a monthly basis!
Why look for Shakeology alternatives?
What is quite concerning when reviewing Shakeology's manifesto and supporting content across their site-Shakeology have also tried to justify in taking Shakeology as a substitution for eating more whole foods. They claim that this should minimise food costs as a whole and make weight loss easier. As a qualified nutritionist, I can tell you that these views are completely false, and nothing can ever be substituted completely in supplement form over the prioritisation of raw fresh produce.
Prioritising just meal shakes over nutritious food could be the worst possible way to lose weight, as all the nutrients you need to live a healthy life can only ever be taken at full potency, when you eat whole fresh fruits, vegetables and so on.
Meal shakes are only ever designed to boost your nutritional journey, and act as a pick-me-up for the days that you have neglected your full recommended and essential nutrients. Meal replacements should never be solely relied upon to accommodate dietary intake. That should definitely be a red-flag!
While meal replacement shakes will have many benefits when it comes to aiding your weight loss journey, You can always make them at home too, and avoid all the additional ingredients and sweeteners that may not always be good for you.
All the Shakeology alternatives listed above, all have minimal to no artificial ingredients, whereas Shakeology itself is an entirely different story. There are multiple artificial flavourings/sweeteners (such as Sucralose) included within the ingredients list.
These sweeteners have been linked to inflammation, insulin resistance, cancer and metabolic diseases such as diabetes and obesity within clinical studies. [2,3] While the regulations in the US are more lenient in terms of consequences to health, regulatory bodies within Europe for example have not approved some of the ingredients listed in Shakeology. That again should be another reason why you should seek an alternative….(ehm,ehm).
What should I look for when picking a Shakeology alternative?
If you are still pretty stuck on deciding between the multiple meal shake supplement choices I have listed above, I have provided some critical pointers that you can use to help you narrow down your search. These are what you should be looking for, as a comparable to Shakeology meal replacements.
1. Should help you lose weight/ or achieve body health goals
Meal replacements should generally be a low calorie option that can be easily incorporated within a calorie controlled or tracked diet. The ideal and average calorie content of today's mainstream shake candidates that are comparable to Shakeology, will come in at an energy total of 200-250 calories. An energy intake like this is perfect, as it is not too high that it will jeopardise personal calorie tracking goals, and it can be easily distributed for different parts of the day as meal substitutes.
Going over your daily energy expenditure is what will cause weight gain or minimised success with your weight loss regime. So should you manipulate your calories wisely and healthily, a Shakeology alternative should be perfectly accommodated to your lifestyle.
2. Contains essential nutrients
This is a necessity. You are guaranteed to be cutting on essential calories whether you like it or not, on a weight loss programme. A meal replacement shake can ultimately make sure to pick up the nutrients you happen to be neglecting e.g. protein, fibre and so on.
3. Tastes great
This factor should always be prioritised, as diets should be filled with foods that taste good and most importantly- that you love. Otherwise, let's face it, it would not be a sustainable journey, and falling off the bandwagon would certainly be inevitable.
While it cannot be guaranteed that you will like every flavour that a brand can offer to you, having at least a couple of variations and options that taste nice for you is important. You will be able to mix up your diet and add some variety so that things will not seem too Groundhog Day, if you know what I mean…
4. Cost-effective
Last but not least, anticipating if you can realistically afford these meal replacement supplements for the long-term is definitely an important factor. You will need to realistically apply the prices of these Shakeology alternative supplements towards your budgets, and evaluate on what you will be happy to spend every few months for these in your diet.
While not all have to be on the pricey side, often the bulk variations will have you saving money, rather than buying the same supplement every month for example. The Protein Works and Protein World Slender Bender are perfect examples of bulk saving options.
My closing thoughts: Which is the best meal replacement from all the Shakeology alternatives?
The best Shakeology alternative from all the candidates listed above, has to be the PhenQ Complete Meal Shake. The reason why this one strikes out as the most desirable choice is first of all, the superfood formula which is made completely from natural plant-based components that involve zero allergens, in addition to the innovative formula which has never been replicated yet, on the market.
The formula itself showcases fast-forward thinking and is very new for the meal-shake market at present.
The active herb components that have been integrated within the formula have clinically been proven to aid endurance, strength and muscle capacity, all the while being low in carbohydrates, meaning it can suit many lifestyles and diet regimes, including a keto diet.
PhenQ Complete Meal Shake is super adaptable and flexible, and even though there is significantly less protein than the other candidates, this formula is unmatched and should definitely deserve a second look-in by all those on a mission to improve their body's health and overall aesthetics.
With a money-back guarantee available should you not like the formula, what do you have to lose exactly?
References
Howarth, N., Saltzman, E. and Roberts, S., 2009. Dietary Fiber and Weight Regulation. Nutrition Reviews, [online] 59(5), pp.129-139. Available at: https://pubmed.ncbi.nlm.nih.gov/11396693/ [Accessed 1 October 2021].
Bian, X., Chi, L., Gao, B., Tu, P., Ru, H. and Lu, K., 2017. Gut Microbiome Response to Sucralose and Its Potential Role in Inducing Liver Inflammation in Mice. Frontiers in Physiology, [online] 8. Available at: https://www.ncbi.nlm.nih.gov/pmc/articles/PMC5522834/ [Accessed 1 October 2021].
Schiffman, S. and Rother, K., 2013. Sucralose, A Synthetic Organochlorine Sweetener: Overview Of Biological Issues. Journal of Toxicology and Environmental Health, Part B, [online] 16(7), pp.399-451. Available at: https://www.ncbi.nlm.nih.gov/pmc/articles/PMC3856475/ [Accessed 1 October 2021].
Shakeology alternatives FAQs
Is Shakeology better than other protein shakes?
In simple terms the answer is no. The reason why you would probably fare better by taking other protein shake alternatives, is because of two reasons-price and sugar content for the Shakeology meal replacement shake.
The price in itself is highly unaffordable in comparison to mainstream protein shakes. One month of servings for the Shakeology shakes, equates to the same cost as 4-6 months servings of other competitors. Introduce into this argument the criticism of heavy sugar content within Shakeology in comparison to USN, Foodspring and others, and the sugar content is nowhere near as concentrated. Therefore, other protein shakes all the way!
Can I replace Shakeology with whey protein?
This could certainly cut the sugar content drastically, should you choose to pick whey supplement protein powders over Shakeology. Whey protein can come in forms of isolate, where the carbohydrate content (sugars) have lower concentrations, which would be exceedingly harmonious to those on macronutrient restricted diets.
What is great about whey powders too, is that you can integrate them within your homemade meal replacement shakes, which will include all the more nutrients than the average Shakeology. They can also replicate the same calorie content-but with whole-foods, making it way more healthier than processed and refined ready made shakes!