Super Greens Extreme by The Protein Works is a greens powder formula manufactured with the aim of introducing essential micronutrients to the body to improve the immune system, overall wellbeing and health of those that consume it. The superfood formula itself is marketed as a detoxifying shake, and can ultimately be integrated within all diets- plant based and more, due to the lactose-free and dairy free ingredients list.
The Protein Works is a company founded in 2012 and based within the UK. Since its launch, it has managed to grow exponentially, and even become the official nutrition supplier of the English football team Everton.
Super Greens Extreme at a Glance
Great value for money, as the pricing is in line with the market.
Multiple delicious flavours which are perfect for super greens powder newbies.
Different variations in the ingredients for the super greens blend mixture list.
Extremely low calorie per portion, with just 30 Kcal per serving.
The super greens blend has balanced core ingredients.
Suitable for vegetarians and vegans.
There are no probiotics or digestive enzymes within the ingredients mixture.
The ingredients quantities are not specific enough when it comes to minerals, vitamins and enzymes-it is very vague!
A proprietary blend.
Only easy to purchase from the EU or UK.
Get 10% Discount on Super Greens Extreme with voucher code: "SUPPLEMENTS10"
Why take Super Greens Extreme Powder?
The basis of taking super green extract based supplements, is to enhance and make a diet more balanced, as well as supporting physically active lifestyles.
We all know how difficult it is to cover the essential macronutrients taken from foods, and how vital it is that we do so as they naturally boost health and support the body's metabolic systems.
Making sure super greens are consumed within your dietary intake is no joke, and should you seek to be mindful of your intake, you will be able to see health benefits such as reduced fatigue and energised/improved brain function.
The high antioxidant content from ginseng, Matcha green tea extract and so on, are further reasons that just one serving of this can seriously help out when it comes to naturally defending our immune system. Yet, while the Greens Extreme formula is high in everything needed, the drink itself is impeccably low calorie, meaning you do not need to worry about sabotaging your health goals, or any calorie controlled diets that you may follow.
When I first came across Super Greens Powder extracts, I was massively intrigued by their qualities and health benefits, as I am sure you probably are too. For this very reason, you will find a fully broken down super greens review for the Super Greens Extreme powder product, with in-depth detail of everything that you need to know before you go ahead and purchase it.
In my opinion, this superfood greens powder supplement is a great addition to your dietary intake, however, it is important to understand more about this product- beyond the marketing jargon and supplementation claims.
What's in it?

| | | |
| --- | --- | --- |
| Values based on: | per 100g | per 9g Serving |
| Energy (kJ) | 1144 | 103 |
| Energy (kcal) | 273 | 25 |
| Fat (g) | 3.9 | 0.4 |
| of which Saturates (g) | 0.7 | 0.1 |
| Carbohydrates (g) | 25 | 2 |
| of which Sugars (g) | 3.4 | 0.3 |
| Protein (g) | 28 | 2.5 |
| Salt (g) | 0.39 | 0.03 |
| Fibre (g) | 14 | 1.3 |
Ingredients for Apple & Lemon Twist
Super Greens Blend [Spirulina Powder, Kale Powder, Wheatgrass Powder, Spinach Powder, Broccoli Powder, Alfalfa Powder, Chlorella (sulphur dioxide), Beetroot Powder, Siberian Ginseng, Garcinia Cambogia, Montmorency Cherry Extract, Moringa Powder, Kelp Powder, Matcha Green Tea, Green Tea Extract, Yerba Mate, Green Coffee Bean Extract, Grape Seed Powdered Extract (95% Proanthocyanidins), Ashwagandha Root Powder,Black Pepper Extract]Citric Acid, Flavouring, Vitamin C, Sweetener (Sucralose)
Ingredients List and Dosage
The best super greens powders will have a mixture of vegetables and fruits, meaning the micronutrient and phytonutrient content usually is pretty high.
The core formula of the Super Greens Extreme powder blend combines 20 active ingredients. However, those that are familiar with supplements will know when referring to the ingredients list, it is not as transparent as it should be from The Protein Works.
While the landing promotional page of The Protein Works is impressive and engaging, (most definitely reels you in) the ingredients/product information can be quite deflating and not as impressive as the initial product promotion.
The Protein Works only include information of four of the ingredients, rather than covering the entire ingredient list, and their associated health benefits.
I believe that elaborating on just some of the active ingredients, is quite disappointing and more should be expected of a brand that has won multiple national awards for their supplementation achievements in the protein sector.
Health advocates have a right to know the information that seems to be lacking from the ingredients label. It can make the efficacy of the supposed super formula really hard to figure out, which is borderline suspicious.
While some would say they are just growing into the greens supplement market beyond their niche and it is nothing that a rebranding of products cannot fix, others would say it can discourage trust and reputation for the brand altogether.
It is rather contradicting considering that Protein Works is socially and nutritionally accepted for its contributions towards nutrition, and have actively created brand mission statements highlighting how they want to empower health driven individuals to take charge of their own health, yet still not disclose the entire information! However, I will let you be the judge of that.
Back to the ingredients that I have been able to figure out however, they are listed further down below.
Core ingredients
Most greens superfood drink blends are composed of they key ingredients that you find in the Super Greens Extreme blend:
Spirulina powder
Kale powder
Wheatgrass powder
Broccoli powder
Alfalfa powder
Chlorella sulphur dioxide (Broken Cell Wall)
Beetroot powder
Kelp powder
Matcha green powder
Moringa
Grape seed powdered extract
Ashwagandha root powder.
However, Super Greens Extreme has additional core ingredients which are not often found elsewhere, such as yerba mate, green coffee bean extract, Siberian ginseng, cambogia, Montmorency cherry extract and black pepper extract.
This is a very strong and solid combination of green powdered vegetables, which also serve as ancient medicinal herbal remedies.
Such extracts like black pepper extract and moringa powder have long been necessities in ancient medicinal herbal healing, meaning you cannot really look down on the ingredients in this Super Greens Powder blend.
Adaptogens
You may be wondering what adaptogens actually are?
These are non-toxic compounds that are neuroprotective (brain protectors), as well as having additional antioxidant power.
Ashwagandha root powder is a great example of an adaptogen that enhances neurone brain function, however, mental focus and concentration capacity are other health benefits commonly linked to this substance.
The Matcha green tea extract, yerba mate and Siberian ginseng give you a mental boost and spurt of energy due to the light caffeine concentration.
You could totally substitute your morning coffee for your Super Greens Extreme, should you be one of the many looking to cut down on the amount of caffeine drunk daily. Hey, it could be a realistic way to cut down!
Vitamins and Minerals
In the packaging promotion, it is disclosed that there are the right vitamins, minerals, antioxidants, enzymes and adaptogens, however it does not exactly say what they are specifically, as stated above.
The Protein Works only give away that in one serving of this, it will provide the recommended Vitamin C intake for a person's balanced diet and nutritional needs.
My only question is, being that the exact micronutrient information is missing from the nutritional label, can that claim really be trusted when Protein Works have provided us with little evidence for any other claim they made? I am a little sceptical…
Nutrition and Supplement facts
Again, just to make it clear, the copy and nutritional values on the labels of this Super Greens product is very confusing.
They boast highly of all the available perks and health boosting contents (20 main ingredients), but they only specify a single few of them. And while yes, the few that are mentioned are key ingredients to natural healing properties, a nutritionally conscious individual will need more than words to feel confident and trusting of the product.
The basic facts when it comes to core macronutrients are there, that gets a check. For instance there is 2.5 grams of protein per serving, yet we all know that the main reason we are taking such a super formula as this, is for the micronutrients in them and not macros, right?
Sure, you could go and research each ingredient that is linked to the health boosting claims, also figuring out the vitamins, minerals, digestive enzymes etc. however that is not very convenient and will never be specific enough in terms of doses.
Another point worth adding is that while the packaging states the blends are low in sugar, all the flavoured blends are in fact, high in Sucralose sweetener, which is not ideal for the health conscious.
There have been links in nutritional studies that this sweetener can promote the GLUT4 in metabolism, which is responsible for fat adipose accumulation. [1] In addition to this, it is also believed that this particular sweetener can increase inflammation in the body, as well as changing the level of good gut bacteria within your digestive health. [2]
It all seems borderline contradictory in my opinion. Maybe the solution here is just to stick to the Super Greens Extreme unsweetened powder, which you can naturally sweeten and combine to recipes from our blog.
Perhaps that could also do the trick and therefore be more healthier for the long term?
How to take Super Greens Extreme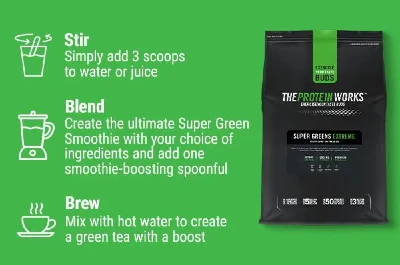 The directions of how to take this to supplement one serving is very clear, and according to The Protein Works packaging and online website, it is as follows:
Grab a glass or a protein shaker.
Add 1 scoop of the Super Greens powder to ice cold water or juice and shake to emulsify the mixture.
You can choose to create recipes of your own by adding additional ingredients, as Super Greens blend very nicely as smoothies, soups and juices.
You can also mix the powder into your tea, to make a health boosting hot Super Greens!
What does Super Greens Extreme Taste like?
From the six available flavours I have tried for myself, the unflavoured one is as expected; a grassy earthy taste that can easily be hidden if you apply the greens powder to some honey, or in your daily breakfast meal replacement shake.
I find that the taste is not so much of a problem and it is something I can tolerate, when combined into recipes or if you chug it all down in one, first thing in the morning. Of course, I personally do favour that as a health enthusiast, rather than taking the flavoured versions which come with the added Sucralose.
The flavoured versions come in Mojito Classic, Apple and Lemon Twist, Mandarin Orange, Tropical Punch and Summer Berry Burst.
The taste is not unlikeable at all, in fact, rather quite the opposite. It does make taking the greens much more delicious, as the typical super greens taste is pretty much non-existent within the flavoured formulas.
There is a slight sweet after-taste that can remain on your palette, but I am sure many would much prefer this palatable formula than taking the latter.
Regardless of which greens intake you choose to go for, all flavours of the super greens powder boosts energy, and will allow you to maintain focus, whether you take the purest form or opt for flavoured formula variations. Potato patato!
Benefits of taking Super Greens Extreme
Zero cooking needed for greens powders to be integrated into your daily diet.
Naturally boosts the immune system and overall health without any stimulants.
Get your daily dose of recommended vitamin C from one serving per day.
Ancient medicinal herb extracts are integrated into the mixture to boost mental focus.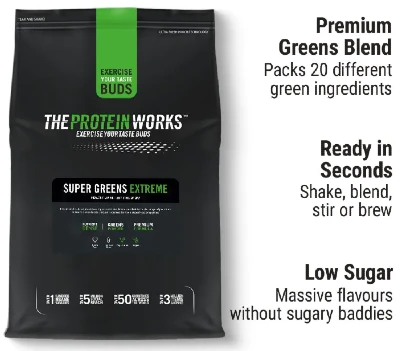 What are the side effects?
The Protein Works packaging does not specifically refer to any side effect warnings that could arise in relation to taking the product. However, it does go into specific recommendation via packaging and on the FAQs via the website, to avoid supplementation of the Super Greens blend if you are pregnant.
It could be possible that you use your intuition and be wary of ingredients which you have had previous bad experiences with when consuming. However, without the exact doses of each ingredient, it is not much to go off really.
Where to buy Super Greens Extreme
You can buy the Super Greens Extreme super formula from the main website and landing page of the brand, The Protein Works.
Alternatives to Super Greens Extreme
There are multiple options that are available to those looking on the market, however I would suggest to try out or at least have a look at the existing supplements that have been reviewed by our own nutritionists, including the Athletic Greens and the SuperGreen Tonik. Both of these supplements have been compared against one another, meaning it would be worth reviewing over the Athletic Greens vs SuperGreen Tonik.
My Verdict on Super Greens Extreme by The Protein Works
Overall, I think that Super Greens Extreme by The Protein Works, does have a list of ingredients that are known to contribute towards herbal healing, meaning the claims made by the brand and its product seem rationally put.
However, due to the fact that exact dosages and values of the ingredients have not been shared, there is no guarantee that the key vitamins and minerals are actually there and if they can aid overall health and wellbeing, as sufficiently as the claims originally suggest.
Due to it being a proprietary blend and supplement, that is supposedly to be expected however, it certainly can be a hit and miss for those that are particularly health conscious.
In my opinion, I think that due to the Protein Works being an independently certified supplement entity, they can certainly get away with not providing the data to support their claims.
Some customers may not mind about this, and base their trust for the brand based on other products they have had success with. While others who make sure to read every detail about the ingredients right down to the very tee, may struggle with this product.
It will all depend on what you are comfortable putting your money towards, and purchasing at the end of the day. By looking and talking price-wise, this product is certainly affordable (£0.72 per serving) which definitely adds to its overall appeal!
Super Greens Extreme FAQs
Should I take Super Greens Extreme – Is it safe?
Super Greens are pretty safe to take by any health conscious activist, as they have been proven to really help the body's recovery and healing system, as well as the natural immune system. All the ingredients used are commonly drunk or have been used for thousands of years as ancient medicinal herb constituents. Should you follow the recommended daily allowances, you are more than safe and have nothing to worry about!
When is the best time to take Super Greens Extreme?
There is no right or wrong answer to this and it will entirely depend on you and your routine every single day. Some choose to take it first thing in the morning (due to the caffeine buzz from the product), while others can try it as a blended meal replacement shake during the day. I personally include them in my morning smoothies, to blend away the earthy taste that comes with unflavoured super greens! However, the choice is completely up to you.
Where can I buy Super Greens Extreme powder from?
References
Sánchez-Tapia, M., Martínez-Medina, J., Tovar, A. and Torres, N., 2019. Natural and Artificial Sweeteners and High Fat Diet Modify Differential Taste Receptors, Insulin, and TLR4-Mediated Inflammatory Pathways in Adipose Tissues of Rats. Nutrients, [online] 11(4), p.880. Available at: https://www.ncbi.nlm.nih.gov/pmc/articles/PMC6520815/ [Accessed 16 September 2021].
Bian, X., Chi, L., Gao, B., Tu, P., Ru, H. and Lu, K., 2017. Gut Microbiome Response to Sucralose and Its Potential Role in Inducing Liver Inflammation in Mice. Frontiers in Physiology, [online] 8. Available at: https://www.frontiersin.org/articles/10.3389/fphys.2017.00487/full [Accessed 16 September 2021].