Keeping on track of your health using a home blood test kit is ideal for those that want to ensure that their essential health markers are kept within a healthy range. Not only do home test kits minimise the frequent visits to a doctor, it empowers individuals to really take control over their own well being and be more proactive when it comes to 'doing something about it', should a blood sample perhaps show abnormal results.
Get 30% Off
Get 30% off your LetsGetChecked test with your exclusive SupplementsReviews discount code. Use code 'supplements30' to get 30% off.
While good overall health is not something that can be achieved in an instant first attempt,  it can be extremely motivating to see that your interventional methods are showing up on your self test kits. Whether you want to raise your iron count, improve vitamin deficiencies, or manage your blood sugar levels, a home blood test kit can certainly be a solution to consider for micromanagement.
Within this article, I will be introducing you to some of the leading health home blood test kits on the market today. Why wait for a GP to diagnose something that could be easily identified from your own home? Especially when some blood test results are not hugely life-threatening and can easily be addressed without the help of medical treatment. Let's not forget that the pandemic has also made getting a face-to-face doctor's appointment very difficult. So, the easy solution is-home blood test kits!
What are the best home blood tests?
1. Let's Get Checked: The all-round testing option with free personalised advice
The first recommendation for home testing kits is from the brand Let's Get Checked. Offering those that wish to take complete control over monitoring their health, a large array of testing options,  the STD panels that they offer have accumulated the most popular reviews. However they do actually offer other health markers for their tests, and below is the five distinct categories that Let's Get Checked actually provide:
Sexual Health: Providing results for various STD diseases such as HIV, Herpes and Gonorrhoea.
General Wellbeing: Providing complete vitamin, mineral and cancer screening test results.
Men's Health: Hormone screening panels, included the necessary biomarkers to pinpoint abnormalities for prostate cancer.
Women's Health: From HPV screening biomarkers, to fertility tests to those wanting to start a family.
Covid-19: Testing opportunities to those wanting to manage the risk posed by the virus within care, business and school sectors.
Benefits of using Let's Get Checked
Convenient subscription offers to those that want to micromanage their body's function with frequent health tests every other month.
Test results available within 48 hours after postage.
Free one-on-one consultations with a medical professional if your results come out as abnormal or positive.
Medication such as Vitamin D tablets (for example) shipped free to treat symptoms and test results.
All partner lab facilities used to test are fully CLIA and CAP accredited.
What are the cons of using Let's Get Checked?
Not all of the STDs are available to test individually with the self test kits.
Tests must be signed for upon home delivery which can be an inconvenience.
You must post it out (or ask for it to be collected) before the mid-week or else your results will be invalid to test and left out for too long.
You cannot use your own personal health insurance to pay for the test kit options.
How to submit and receive sample results?
To begin your health journey with Let's Get Checked, you will need to order the variation of home blood test kit that you would like to begin with-it can either be a one-off first test, or as a subscription. To navigate and find a test you would like, it is all fairly straight forward and can be found within the selection toolbar on the menu of the site. Submitting your sample is fairly easy, you just need to register your test using the kit's unique serial number, and then register an account to it.
Most of the tests that get administered through Let's Get Checked are via blood test samples. You should collect them in the morning prior to eating anything, using the kit that arrives in your package. Washing your hands with warm water will stimulate blood flow when you prick your finger. However, there are more video resources and FAQs to help you on the main website.
As soon as your results are sent off, it can take 3 business days to arrive at the labs. Once they have been received, your online dashboard should get updated with your results within 2 working days. If however, you have a positive test, you will be automatically asked to book in for a consultation via phone or video call, to discuss your blood sample and receive professional advice on exactly what seems to be the problem with your general health. This feature allows individuals to take health into their own hands, but also seek support should they have comprehensive results.
2. Thriva Test: Perfect for General Health
When winter arrives, it can generally leave us a little bit groggy, meaning keeping ourselves motivated for the general lifestyle and healthy diet habits that we commit to, all the more difficult.  A big concern we usually have during a change of seasons is lowered vitamins and mineral counts. Thriva´s postal home blood tests are perfect at analysing health markers for general health such as:
Red blood cells, the iron complex availability-or if you have enough blood altogether.
Cholesterol levels and lipid profile check up.
Liver function check, with alkaline phosphatase results.
Blood sugar testing and pre/diabetes diagnosis.
Stress and cortisol testing.
Hormone testing for both males and females (great for identifying hormone imbalances).
General mineral and vitamin blood test analysis.
Benefits of using Thriva
See what's happening inside your body within 48-hours.
Full medical personalised GP report provided alongside your results, with in-depth analysis.
overall excellent service with online live chat for patients to discuss any further enquiries about their results.
Multiple quizzes available on site to help you identify the test that you need to take.
Incorporates improvements for other body and lifestyle factors such as weight, and fitness regime.
Provides personal plans for those vulnerable to cardiovascular disease, want to lose weight, looking for an improved immune system etc.
All concerns flagged up and if severe, an instant GP referral can be arranged locally.
 What are the cons of using Thriva?
You need to manually postpone or cancel your next test as you automatically get subscribed if not.
Can be a little on the pricey side for some people-but you get what you pay for!
How to submit and receive sample results?
To submit your blood home test kit, you must first order one via the subscription service available online. The containers that you receive in your package will be used to send back the blood test sample. Using the quiz provided online, you will be able to figure out what test you need to do, which corresponds with any low symptoms you may be feeling as of late.
The testing is accurate and very speedy. Methods of taking a blood sample to put in the collection tube is provided by an instruction manual which is very engaging and interactive. The finger lancets used to collect the blood test are antibacterial (sterilised) and modern to ensure minimal pain when the finger is pricked. It is advised to take a sample after a hot shower, when the blood is flowing and circulating.
The model testing used by Thriva, allows you to collectively compare and analyse your results over the years, if you decide to get more than the one-off test. With specific blood markers, you will have a health comparison to pool all of your data from your previous blood tests, in addition to a doctor providing advice and health recommendations to your personal account.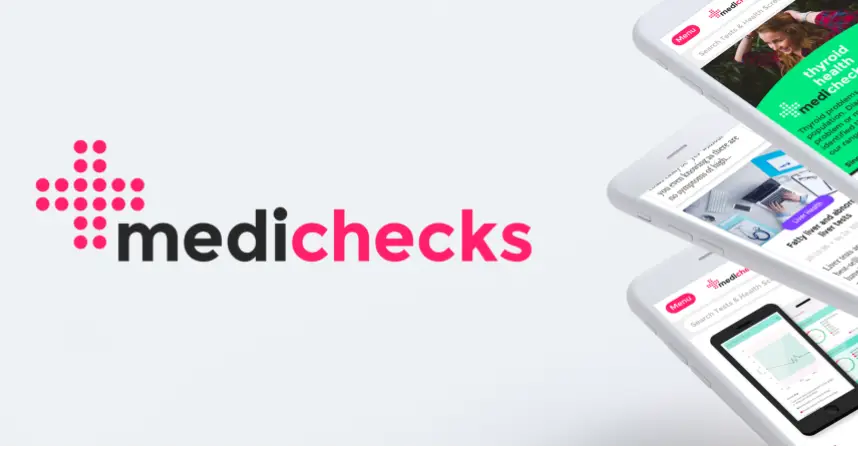 3. Medichecks: Perfect for one-off testing
Medichecks provides private home blood testing for those that wish to affordably check aspects of their health that relate to hormone function, fatigue, fitness and today's problematic issues such as antibody tests for Coronavirus.
What makes this range of tests very popular on the market today, is the flexibility and provision of Medichecks tests. Tests can either be requested via postal delivery, or patients can go to a clinic, to get their blood sample taken there and then. The following list covers the health biomarkers covered by the blood tests.
Red blood cells, the iron complex availability-or if you have enough blood altogether.
Cholesterol levels and lipid profile check up.
Liver function check
Blood sugar testing for diabetes diagnosis.
Hormone testing for both males and females e.g. thyroid testing.
General mineral and vitamin overview e.g. B vitamins or vitamin D check.
Benefits of using Medichecks
Tests are very affordable, retailing at£35 per test.
Additional commentary from a doctor if your health is at risk or not optimal.
Patients have the choice of testing using the home test kit or by dropping into one of the many clinics nationally located.
Offers a wide variety of testing options (up to 300 different tests).
Results provided within 48 hours.
No stool sample necessary.
What are the cons of using Medichecks?
Medichecks does not offer the latest testing DNA profile technology, so it is a little outdated.
Each test is sold separately, so if more than one type of test is wanted, it can rack up quite the price tag.
How to submit and receive sample results?
Patients can select to take a test by selecting online which test they would like to have, and signing up for a new profile. There is also the opportunity to register in person for an on-site test, in one of the many Medichecks clinics dotted all over the country within pharmacies.
Samples are taken by a simple prick from a lancet, and immediately sent off to the nearest laboratory, where the sample will be analysed and verified with commentary by medical professionals and practicing doctors. All results are provided online using the effective traffic light colour code blood analysis for patients to identify any risks, or possible pending risks should no lifestyle changes be made. Each tracker will provide optimal textbook blood ranges with each of the home test kits.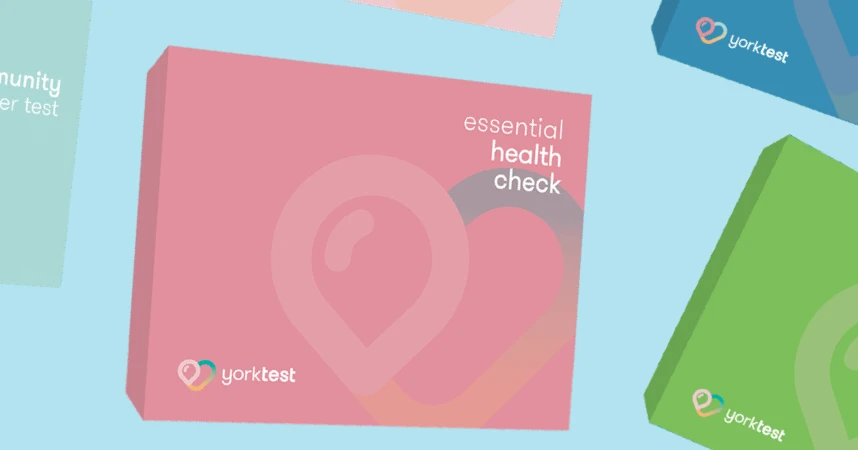 4. Yorktest: Perfect for testing for food intolerances
Yorktest is the perfect testing option for those who want to have biomarkers for food intolerances. The simple lancet test can give patients a wider understanding of 19 additional different health markers. It is, however, most popular for monitoring food intolerances that can be collected without any need for a stool sample.
The following biomarkers of that are covered by taking this test are:
Cholesterol and triglyceride concentration
Vital essential minerals and vitamins such as B12, B6, Vitamin D, and folate.
Food intolerances such as gluten, soya, egg and dairy.
Iron complex testing and general glucose concentration.
Benefits of using Yorktest:
Relatively cheap for single health marker testing.
Most evolved food intolerance testing within the industry that is also good value for money.
Customers are provided with excellent service.
Offers on bundles which test all health markers consecutively together for one collective test result.
Speedy 48 hour response of test results.
What are the cons of using Yorktest?
No medical advice or doctor report accompanied with your result.
Patients must use the detailed hand booklets to help them analyse their results.
How to submit and receive sample results?
Unlike the other samples within this review, the Yorktest is probably one of the simplest out of the latter. The sign up procedure is very simple, and potential testers are expected to sign up and align their test reference number with their account, to receive an update to their results attached to their account.
Once you do request a test, it comes in the mail within 3-4 working days, and you can send it back via the same method with a prepaid package (provided) towards the laboratory.
The buyers guide available on the site simplifies the testing process with a catchy '1,2,3 and 4 step-by-step process', in addition to elaborating on all the varying tests that are available to people wanting to stay on top of their health. It's informative and will really guide you upon making your pending test choice.
What are home blood tests and do you need one?
Home blood health tests are essential for those that do not wish to depend on a typical doctor's practice and clinic to identify their pending or existing health issues. Many individuals have always found that testing regularly, really puts them in the front seat of control, when it comes to managing long term health concerns.  After all, when you think about it, who should be more responsible for their own health and well-being, other than yourself?
The biggest associations in nutrition such as the Association for Nutrition, British Association for Applied Nutrition and Nutritional Therapy etc. all recommend frequent blood tests of at least 3 times a year, to keep in check all the essential nutrients needed for a healthy quality of life. Using home blood tests can really help individuals keep on top of their immune system and general health, without having to heavily depend on general practitioners and the long waiting times associated, especially in a post/current pandemic era.
So, in essence, it makes life easier if you do get one!
They usually come in two variations when you choose to purchase a package from top competitors:
Rapid Results: Usually a rapid results response, via a quick stool sample, urine or blood kit, that has its own self explanatory interpretation kit accommodated with it.
Lab analysed: The tests require more waiting time (much pricier too), but they are more informative and in-depth. They give you the reasons as to why-with additional interventions you can take to make changes to your lifestyle and eating habits.
Are home blood tests good?
While using a home blood test has proven to massively commandeer independence over health, there is alway the question of accuracy. All CLIA certified kits will come with ≥95% accuracy. However, this is provided that you do complete your step by step process of collecting your blood sample correctly.
Human error is what compromises tests and therefore deems them inconclusive. Being outside of a lab environment can hugely affect data collection, meaning human mistakes are always possible and will always be the biggest downfall to taking your own blood tests at home. Let's not forget to mention it can sometimes be a very expensive mistake to make, when many of these tests retail at an average of £80 or more!
What do you need to consider before buying a home blood test kit?
Before deciding on whether you wish to take the jump for home blood testing, consider these variables listed below.
Professional support
It goes without saying that since you will be bypassing the typical doctor and in-person clinical setting, you will need that extra support to understand your results from another source. The most reputable home blood testing institutions will always provide that support for their community, as seeing data on a lab sheet is not easily understood. Taking the test is always one part of the story, and customers always need guidance when it comes to addressing their results from their testing kits.
Reputable home test kits
Reputation is everything. All the tests listed above are accredited and certified by the appropriate associations, to ensure that their labs are practicing a safe testing quality that minimises error and provides sanitised blood test kits to the general public. The CLIA certificate is an essential safe practicing guarantee to look out for in third party independent testing bodies.
Speedy response
Response times are everything. While most of the best testing laboratories aim to get results to customers within 2 working days, sometimes delays can happen (especially during peak periods such as the winter season). A great customer service team, that responds efficiently to your queries and matters (usually within 24 hours), should always be available. It is not comprisable.
Closing thoughts: My Verdict
I think the best home blood test kit is the Let's Get Checked testing kit. The reason why this is possibly the best, comes down to the simple user experience, broad coverage of different health markers, in addition to the free personal consultation that comes with those that have abnormal or questionable results. For the same kind of medical provision, other tests are priced at much larger prices, making it the best value and most supportive service for the customer overall.
Home blood test kit FAQs
How accurate are Thriva blood tests?
Thriva boasts a 95% or greater accuracy for their home blood test kits. Being one of the most popular on the market, the lab results response tests are also speedy, and it is very rare that tests come back inconclusive. However if that does happen, the customer service team is perfect for accommodating retests, and further investigation on your test results.
Are Home PSA test kits any good?
Taking a home PSA test kit is often encouraged within the presence of a doctor, however it can always be a good indicator and baseline for doctors to look into further if your tests come back abnormal. The best one on the market to use is from Let's Get Checked, which gives you a two day response time and 24/7 access to medical professionals to interpret your results. Instant referrals to specialists can also be arranged, incase of urgent necessary care.