Homemade meal replacement shakes for weight loss can be exceptionally tricky, when it comes to balancing the main ingredient elements within them. However, with that all being said, we all must start from somewhere and there is nothing more exciting than exploring the healthy smoothie recipes and possibilities that can constitute a proper meal, without exerting too much of an effort in making them.
Within this guide, I will be giving you the 101 when it comes to making your own meal replacement. I will be making sure that you are getting all the nutrients you need without the added sugar, yet still making sure it's, oh so tasty. Because after all, a weight loss programme needs to still taste good and satisfy that sweet tooth overall, right? Who's with me?
5 Easy homemade meal replacement shakes recipes
1. Ginger Beet Fruit Smoothie
Look forward to a filling earthy fruit smoothie that will satiate your morning and keep you grounded until lunch. The vibrant colour of the beetroot will make your day with its aesthetically pleasing appearance. More reason to have weight loss smoothies on the agenda, right?
Ingredients and method
Collect all the ingredients listed below and add them within a blender to create a blended meal replacement smoothie.
Greek yogurt, one cup
One large boiled beetroot
Half a cup of strawberries (or more depending on how sweet you prefer it)
Chia seeds, up to one tablespoon
Grated ginger, up to one tablespoon
Nutritional Information
Calories per serving: 307 Kcal
Total Carbohydrates: 34g
Protein: 11.4g
Dietary Fibre: 8.5g
Fat: 15.4g
Total sugars: 22.8g
Calcium: 381mg
Vitamin C:  1 mcg
Iron: 2mg
Potassium: 842mg
Top Tip
For a cold summer kick, add ice cubes to your blender, to make your green smoothie extra nice and cold!
2. Green Smoothies Oat Shake
This green smoothie is the perfect breakfast and lunch alternative to those that wish to eat something with a little bit more weight to it to keep them satiated. Sometimes leafy greens are just what you need to give your body the protein it needs, without having to eat meat. Plant based protein comes through for the win in this recipe.
Ingredients and method
Collect all the ingredients listed below and add them within a blender to create a blended meal replacement shake.
Greek yogurt, half a cup
Leafy greens i.e. kale, two cups
Avocado, a quarter or half portion
Pineapple, half a cup
Two tablespoons of lemon juice (optional)
Rolled oats, three to four tablespoons
Nutritional information
Calories per serving: 333 Kcal
Total Carbohydrates: 50g
Protein: 13.4g
Dietary Fibre: 9.6g
Fat: 10.9g
Total sugars: 17.5g
Calcium: 430mg
Iron: 3mg
Potassium: 1357mg
3. Pumpkin Cinnamon Shake
If you are disappointed by the fact that you had to let go of pumpkin spice lattes or Frappuccino's from your beloved Starbucks chain, never fear, this pumpkin cinnamon shake will certainly suffice that sweet tooth of yours. Yes, it is a great source of vegan protein, and the perfect addition to your homemade meal replacement shakes for weight loss. While we are in the middle of summer just yet, autumn will be around before you know it!
Ingredients and how to make
Collect all the ingredients listed below and add them within a blender to create a blended meal replacement shake.
Milk or dairy alternatives (coconut milk, soy milk, almond milk or hemp milk), half a cup
Pumpkin puree, half a cup
Apple, half to a whole
Frozen banana
Two tablespoons of cinnamon
Lime, a half
Peanut butter, one tablespoon
Nutritional information
Calories per serving: 316 Kcal
Total Carbohydrates: 52.3g
Protein: 9.6g
Dietary Fibre: 10.3g
Fat: 11.3g
Total sugars: 30g
Calcium: 430mg
Vitamin D: 1 mcg
Iron: 3mg
Potassium: 1357mg
Top Tip
If you decide to add the protein powder, make sure to add an extra quarter cup of your milk of choice, to balance the thickness of your smoothie recipes. I am also going to say this again too- do not forget to add the extra calories too!
4. Frozen Blueberries and Berries Shake
When summer comes around, we all crave fresh fruit to go in our fruit smoothie, because those fresh ingredients are what satisfy and quench the thirst. This shake can be made to suit both vegan protein based diets, and regular non-restricted diets. Alternate the choice of milk to suit the preferences of your diet.
To promote fullness for longer and sustain physically active diets, your meal replacement shakes recipes will work just the same if you add protein powder. It does not matter if you select whey protein, or vegan protein alternatives like pea protein and other plant based protein powders. Don't shy away from experimenting with the recipes I have listed within the guide!
Ingredients and method
Collect all the ingredients listed below and add them within a blender to create a blended meal replacement shake.
Milk or dairy alternatives (coconut milk, soy milk, almond milk etc.), half a cup
Greek yogurt, half a cup
Baby spinach, one cup
Frozen banana
Frozen blueberries, half a cup
Frozen strawberries, half a cup
Peanut butter, one tablespoon
Add chia seeds (optional)
Protein powder of your choice, one to two scoops (optional)
Nutritional information
Calories per serving: 346 Kcal
Total Carbohydrates: 24.8g
Protein: 10g
Dietary Fibre: 7.9g
Fat: 25.3g
Total sugars: 13.8g
Calcium: 219 mg
Iron: 2mg
Potassium: 715mg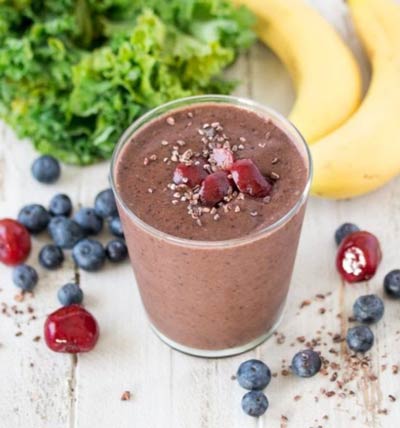 5. Cocoa Peppermint Shake
Having some chocolate cravings lately? Well this peppermint banana shake should most certainly fix you right up! Again, all ingredients are naturally sourced/based, making it nutritious and satisfying.
Ingredients and how to make
Milk or dairy alternatives (coconut milk, soy milk, almond milk etc.), half a cup
Frozen banana
Pineapple, quarter of a cup
Peanut butter, one tablespoon
Two tablespoons of cocoa powder
Peppermint leaves, a few leaves
Protein powder of your choice, one to two scoops (optional)
Nutritional information
Calories per serving: 362 Kcal
Total Carbohydrates: 53.3g
Protein: 14.5g
Dietary Fibre: 7.9g
Fat: 14.9g
Total sugars: 30.7g
Vitamin D 1 mcg
Calcium: 313 mg
Iron: 2mg
Potassium: 879 mg
What is a homemade meal replacement shake, and what benefits do they bring?
A meal replacement shake is a supplement to your daily intake of food and can therefore constitute a complete meal, if you take into account all the healthy fats, fibre, add protein, and make sure all the nutrients are present. While meal replacement shakes are something that often come with fewer calories, if you intuitively include them within your everyday meal plan, they can help you lose weight and strive towards attaining the healthy lifestyle that you may be seeking. Of course, with any meal replacement, you need to know how many calories they come with, and you need to make sure the energy intake meets what you expend, and you account for the deficit that you need to achieve. Again, this all needs to be in the context of a restricted calorie plan that suits your lifestyle. If you are unaware of how to actually go about in achieving that, you may need to seek advice from a dietician, who you can consult with to seek further clarification. [1]
The benefits of meal replacement shakes are listed in detail down below.
Homemade meal replacement shakes are convenient
Preparing meals does not get easier than this! Meal replacement shakes are made in a click of your fingers, and all you will need to do is get the ingredients together. Have yourself some natural plant based protein, or add protein powder, alongside leafy greens like baby spinach, and you have yourself a meal. We all have places to be, people to see, and prepping your meal plan with a homemade meal replacement shake on your agenda, makes it that much easier.
A meal replacement shake keeps you fuller for longer
Something that you may not realise is that when you pack some ingredients together for your meal replacement shake, you are combining fibres, proteins and dense nutrients that contribute to your satiety and fullness. Not forgetting to mention when these are made from scratch, it cuts corners on artificial added sugar, meaning you can regulate hormones and insulin that much easier; giving yourself a bounce of sustained energy all day.
Can you make your own weight loss shakes?
While many of the meal replacements out there are manufactured and provided by some of the huge corporate chains, you will need to address these with a pinch of salt. Often, manufactured means that meal replacements will come with added sugar, artificial sweeteners and preservatives.  That is why homemade meal replacement shakes can provide a solution to a problem that you wish to avoid. Meal replacement shakes or meal replacement smoothies are massively easy to make and come with convenience too! Not only can you make them on the go and relatively fast, they are perfect to contribute to the diet of those that wish to lose body fat, and build lean muscle mass.  How do you ask? Well, when you make meals from scratch, you will know exactly what goes inside, and account that to your daily macronutrient targets. Buying off the shelf can sabotage strict nutrient plans, and can be the hidden calories that allow weight gain to creep up. That is why a homemade meal replacement is the way to go about implementing change and strive for better health overall!
It is very possible to make your own homemade meal replacement shake, with little ingredients needed. The rule is, that for every ingredient you wish to add, make sure it is packed with the essential amino acids, healthy fats, fibre and energy you need to fuel your day. The fibre is essential to aid with satiety, as what is a meal if it is not to equate to fullness and satisfaction?
Do meal replacement shakes work for weight loss?
Yes of course! But it is important to remember that it is not the meal replacement shakes that solely aid the weight loss efforts. Weight loss is achieved through the intuitive management of calories. Having fewer calories, below the energy that you expend is what will budge the weight off the scales, as your body will retaliate to breaking down the energy resources of ATP stored within your cells i.e. adipose tissue.  Having shakes for weight loss will work out for sure, as long as you are mindful of the energy content within them, and keep it under check with your calorie deficit in mind.
What's the best meal replacement shake for weight loss?
So, now the next thing to think about when it comes to meal replacements for weight loss is the actual principles/rules to making the perfect one. So below I have outlined the skeleton of how you would go about creating your own recipes, and it goes a little like the steps listed below.
Fewer calories than a complete meal
First thing is first, if your aim is weight loss, you need to think about making one meal come without all the jam-packed calories. A meal replacement should be satiating, yes, but that does not mean that it needs to come with the huge calorie content that can sabotage your goals.
A meal replacement smoothie can hit your needs in 300 to 400 calories. Full stop.
Have all the nutrients you need
The next step to ensure you remain mindful of and perhaps one of the most important factors-make sure all the nutrients are present, and you substitute what you would normally eat within a meal, within your homemade meal replacement shakes. If you neglect those important macronutrients from your meal replacement shakes, that can lead to a dangerous road of deficiencies that could be costly towards your health. Therefore, it is very important that you avoid that and educate yourself on the essential knowledge within nutritional science resources, if you are unsure of how to go about it.
NICE is a great UK-based nutritional body, that provides simple and relatively easy material to make reference to, should you be in the process of educating yourself on the important and essential nutrients that your body needs to be present within an everyday diet.
Make sure to add protein in there
Protein is one of the most important macronutrients for your body, it is vital for the growth and biological functions that occur within metabolism, in addition to the supplementation of building lean muscle mass, when we go about exercise and exerting tension on muscle fibres. If you are trying to build muscle, you will need to make sure you get at least 2g of protein for every kilogram of mass that you weigh, for this allows muscle synthesis to occur effectively, and prevent muscle soreness. Examples of protein that can be added within meal replacement shakes include milk, yogurt, and vegan plant based protein such as soy milk, pea protein, chia seeds, flax seeds, oats and baby spinach.
Look out for the hidden calories
Yes, you heard me right. Just because the contents of your homemade meal replacement shake are completely natural and unmanufactured, it does not mean that it is calorie free. Every calorie needs to be accounted for. So, that goes for your coconut milk, your protein powder, additional peanut butter, chia seed-anything and everything has calories. If you do not know the energy content of your shakes, you could easily go over your calorie consumption goal, and find when you hop on the scales the next time, the number could be very much a disappointing one that can catch you completely off guard entirely. Don't be that person!
Add protein powder for satiety
Do not underestimate the power of protein powders especially when it comes to weight loss. Protein powders are hugely important when it comes to getting your instant protein fix, but also, they add more 'bulk' to your eating quantity, which ultimately slows the digestion process and keeps you fuller for longer.
Understanding how protein powders can contribute to your diet and lifestyle is important. Therefore, I would recommend you check out the protein powder pros and cons page, to elaborate more on the topic.
How do you make meal replacement shakes at home?
Now, we have gotten over the theoretical concepts within nutritional science. I can actually start talking about some meal replacement shake recipes, and how you can go and make a weight loss drink at home for yourself. Homemade meal replacement shake ideas are quite fluid and flexible. You can make thousands of recipes with the most basic ingredients, all it takes really is a spark of imagination and the understanding of the nutritional content that is stored within the key ingredients.
The core equipment needed to make your shakes is of course first and foremost, a blender. I would recommend one that is a bit of a tough cookie, as you have to think of all the ingredients you will be putting inside there. Everything from frozen fruit, to nuts and nut butter will be put in there, so you want to make sure that the motor of the blender is resilient and will make it through to the end. Of course, other core ingredients will always be milk alternatives and juices, which you will use as your base to emulsify the rest of your food list into a liquid. Always have your almond milk, coconut water or orange juice on hand, as you will not be getting very far without the addition of a liquid in your blender!
By referring to the recipes that I have listed down below, do feel free to alternate your milk choices accordingly, as many of these recipes are flexible to suit every vegan, vegetarian and lactose free diet out there. Again, make sure you track the macros that go into your recipes very carefully, as every calorie counts towards hitting your goal weight.
What are the disadvantages of meal replacement shakes?
Meal replacement shakes have become the hype of the nutritional industry as of late, and for good reason-they aid towards our aim to lose weight! However, when they are approached with an unhealthy attitude and headspace, they can actually do more damage than good to the body. This is why having the correct nutritional information and knowledge is essential before anyone has the intention to alter and change their diet for a weight loss result. See below for an elaboration of the cons to homemade meal replacement shakes.
They are not a long-term solution
Meal replacement shakes are great to help anyone lose weight, however, it can make people lose weight too quickly and not offer the long-term solution needed for bodily health, which should be the primary motivation in the first place. We often hear the term 'yo-yo' dieting within diet culture and the concept essentially means that when individuals lose weight quickly, they will put it back on just as fast. This all comes down to the lack of knowledge and understanding as to how and why certain nutrients act within the body, in addition to pre-existing unhealthy attitudes to eating and food. Remember, the aim of meal replacement shakes is to aid the weight loss process but not act as the be all and end all to your lifestyle regime (by not being heavily relied upon).
On the other hand, users who make homemade meal replacement shakes and intuitively take account for the nutrients within them; will always be able to manage meal replacement shakes in the healthiest way for their body. The reason being is that weight loss is not just about calorie control, it is about ensuring the correct compounds taken from food enter our body such as, macronutrients (like essential amino acids), vitamins and minerals. If all are accounted for, your body is getting a variety of what it needs to support health and human metabolism, directly from both solids and meal replacement weight loss shakes. [2] Because variation is good!
Digestion issues from weight loss shakes
You may find that when you start substituting your meal replacement shakes within your diet and are conscious of getting all your protein and fibres for a meal plan all in one go, your tummy may not take to it at first. That is completely normal, however each and every person will be affected differently. Some of those who suffer with existing bowl illnesses such as IBS or Coeliac disease, will need to ensure they are careful with the ingredients that can cause a flare of discomfort and disruption to friendly gut bacteria.
It can be a disastrous circle, from too many fruits and natural sugars (fructose) passing through the gut all in one go, to gluten heavy fibre such as oats, which will disrupt the lives of those with gluten intolerances. For that reason, smoothie recipes need to account for digestive issues and introduce widespread alternatives. Examples such as gluten free meal replacement shakes with gluten free oats, or lactose alternatives that steer away from generic ingredients like whey, for plant based protein sources such as brown rice protein and nuts, which is certainly an effective way. That is why all the recipes listed above were very flexible in their use of base contents.  [3]
P.S For those that suffer with IBS, it is advised to take reference of the FODMAP diet, which is nutritionally certified by large bodies such as the Public Health England. The FODMAP is a guideline on naturally sourced ingredients that should be avoided or advocated for every day dietary meals. For example, cottage cheese (a high protein source) should be avoided by IBS sufferers, as the high lactose can cause great disruption and abdominal pain symptoms upon passing through the gastrointestinal system. Should you notice discomfort and gaseous symptoms upon trying out homemade meal replacement shakes, make sure to seek dietary clinical assistance.
References
Kaupe, A., 2021. 10 Easy Homemade Meal Replacement Shakes for Weight Loss. [online] 21 Day Hero. Available at: https://21dayhero.com/easy-recipes-for-weight-loss-shakes/ [Accessed 30 June 2021].
 Bell, B., 2017. Can Meal Replacement Shakes Help You Lose Weight?. [online] Healthline. Available at: https://www.healthline.com/nutrition/meal-replacement-shakes#TOC_TITLE_HDR_6 [Accessed 30 June 2021].
Gunnars, K., 2018. FODMAP 101: A Detailed Beginner's Guide. [online] Healthline. Available at: https://www.healthline.com/nutrition/fodmaps-101 [Accessed 30 June 2021].