In this Brutal Force SBULK review I will be reviewing the ingredients and claims made by the manufacturer which is Brutal Force, to check whether this is the right testosterone supplement booster for your needs.
SBULK is described as the original bodybuilding supplement and the "origin of all anabolic steroids." We're not entirely sure how credible this claim is, but we like how confident they come out on the get-go.
Brutal Force, the manufacturers of SBULK, say their product can boost testosterone levels, help you build more muscle without fat, prevent muscle loss, and even speed up lean muscle mass recovery.
They suggest that the formula for SBULK is designed to specifically mimic Sustanon 250, a steroid prescribed to men with male hypogonadism – a condition that impairs testes function. The best part? They can mimic Sustanon without the side effects.
Is SBULK a legit testosterone booster or just another product out to get your money? Read our SBULK Review to find out.
Premium ingredient forms
Potent testosterone ingredients
Contains Boron, Zinc, and BioPerine
Tried and testes testosterone formulation
Good value for formulation and number of servings
Money back guarantee
No new or innovative ingredients
Needs more dosages in key areas
What is SBulk Brutal Force?
SBulk is sold by UK-based supplement company MuscleClub Limited and is part of the Brutal Force products range. MuscleClub Limited wants to promote themselves as the next best thing after steroids, especially with how they advertise their products (always comparing them to steroids), and how their page is just all about having the benefits of steroids without the side effects.
Just like SBulk, much of MuscleClub Limited's line-up are made to mimic actual steroids. DBulk is advertised to mimic dianabol, ABulk mimics Anadrol, CCut is for Clenbuterol, and TBulk was formulated to copy Trenbolone.
Based on their website, SBulk is guaranteed to give you benefits when it comes to:
Weight lifting performance
Lean muscle mass
Muscle recovery
Lean body composition
Testosterone support
Of course, SBulk is also 100% natural and safe, or at least more natural and safer than anabolic steroids.
How does SBulk Work?
SBulk's formula is pretty straightforward: Get the body to maintain a higher testosterone level.
There are no fancy "complexes" or "special blends" dedicated to doing a specific function. The natural ingredients SBulk included are generally all capable of improving natural testosterone production, or at least prevent testosterone levels from getting lower.
Let's take time to discuss some of SBulk's key ingredients.
Zinc, Magnesium, and Vitamin D are critical for addressing vitamin and mineral deficiencies in any type of supplement. However, in the context of a testosterone formula, these three nutrients have been shown to help with testosterone levels. Rather, a deficiency in Zinc, Magnesium, or Vitamin D have been shown to be directly related to low testosterone levels.
D-Aspartic Acid is known to directly boost low testosterone levels. It works by letting the body produce more follicle-stimulating hormones and luteinizing hormones – hormones known to stimulate natural testosterone production. More than a hormone booster, D-Aspartic Acid is also capable of improving male fertility and sperm motility.
Boron has been cited to enhance testosterone levels with just a week's worth of daily supplementation. People who took boron as a supplement have been found to have more free testosterone, higher libido, better erections, and just an overall better sex life. Boron also greatly synergizes with vitamin D absorption and metabolism, which further boosts the vitamin's effect on testosterone.
Nettle Leaf Extract was likely added to help with prostate health more than for boosting testosterone. Nettle leaf has been shown to reduce urinary flow obstruction in men and greatly decrease the number of night-time urination.
Overall, SBulk's goal is to delay age-related testosterone decline by maintaining higher testosterone levels. This is not to say that the product can overproduce testosterone to compensate for the "loss" of the hormone. What SBulk does is more about reducing the negative effects of ageing (and poor lifestyle choices) on testosterone levels.
SBULK Benefits
Here are the SBulk benefits users can look forward to:
Improved libido and sexual health
More energy
Better experience with muscle recovery
Increased muscle mass
A feeling of "youthfulness," as your testosterone levels are higher.
Now, these benefits can only happen if you take the product daily or if you also do your part by maintaining a "testosterone-healthy" lifestyle. This kind of lifestyle involves eating foods that can boost testosterone levels, regular exercise, and good sleeping habits.
SBulk Ingredients
There are 11 total ingredients in SBULK, and 6 of them are key natural ingredients that make the overall testosterone boosting formula of SBULK. Are these ingredients solid additions? Are these natural ingredients here to add value to the product or to simply get a higher price tag?
Vitamins and Minerals
Vitamin B6 as Pyridoxine 5 Phosphate
As a testosterone ingredient, vitamin B6 helps reduce testosterone conversion to other stuff that isn't testosterone.
Vitamin D3 as Cholecalciferol
This is the exact form you want as this vitamin D is the type the body produces when you're exposed to sunlight. Research suggests vitamin D deficiency is linked to low testosterone levels as well as other symptoms of reduced fertility. Vitamin D3 also improves magnesium absorption which indirectly also boosts testosterone levels. [1]
Vitamin K1 as Phytonadione
This one is more of a wellness vitamin than a vitamin for testosterone. The actual vitamin K for testosterone is K2 or menaquinone. This could be an error or something they did on purpose. Regardless, it's not part of the key ingredients, so we'll let this one slide.
Magnesium as Magnesium Oxide and Magnesium Citrate
Magnesium is a critical mineral for anabolic muscle growth and testosterone production. Magnesium has also been cited for some of its stress-benefits, which can help protect your testosterone from oxidation and ageing. [2]
Zinc as Zinc Citrate
Zinc is called a manly mineral due to how it is highly concentrated in the testes. It's been shown to help reverse symptoms of low testosterone, and is credited for directly boosting testosterone levels in men who have low testosterone levels. And, zinc deficiency has been linked to low testosterone levels as well as poor fertility. [3]
SBULK Brutal Force Review: Key Ingredients
D-Aspartic Acid
This is an amino acid known to greatly boost testosterone levels by as much as 42% in less than two weeks. It supercharges our sex hormones which then tell the body to speed up testosterone raw material delivery. It can also spark testosterone synthesis as well as boost hormones that support testosterone over other hormones (such as estrogen). [4]
Nettle Leaf Extract
Nettle is known to help block testosterone-killing hormones and enzymes. However, human studies aren't really solid for this ingredient yet. Regardless, it may be good for prostate health which justifies its addition in this formula.
Korean Red Ginseng Extract
Ginseng is a common ingredient found in many male supplements and even energy drinks due to its performance-enhancing properties. Some studies link this benefit to how it can indirectly increase testosterone levels. It's also a popular libido booster.
Fenugreek Extract std. to 50% Saponins
Fenugreek is known to help with muscle recovery and libido. For testosterone, fenugreek seems to block enzymes and hormones that can lower testosterone levels. However, this effect is either minimal or just not enough to warrant its inclusion as a testosterone booster.
Boron Citrate std. to 5% Boron
Boron is yet another mineral that can directly boost testosterone like Zinc. It synergizes well with magnesium and vitamin D, two nutrients found in this formula. Some studies suggest taking boron daily can have a significant boost in testosterone in just seven days. [5]
Bioperine Black Pepper Extract std. to 95% Piperine
Perhaps one of the best ingredients in any supplement, Bioperine is a branded ingredient that can greatly enhance bioavailability which can make otherwise moderately dosed ingredients be absorbed much, much better. The secret is in its piperine content found in black pepper, with some studies suggesting it can boost absorption by at least 10 times given the right extract and conditions. [6]
SBulk Brutal Force Supplement Facts – Nutrition Information
Serving Size: 3 Veggie capsules Servings Per Container: 30
Amount Per Serving
%DV*
Vitamin B6 (as Pyridoxone-5′-Phosphate)
15 mg
882%
Vitamin D3 (as Cholecalciferol)
39 mcg
195%
Vitamin K1 (as Phytonadione)
15 mcg
13%
Magnesium (as Magnesium Oxide and Magnesium Citrate)
150 mg
36%
Zine (as Zinc Citrate)
7.5mg
68%
D-Aspartic Acid
1764 mg
†
Nettle (Urica dioica) [Leaf] Extract 4:1
30 mg
†
Korean Red Ginseng (Panax ginseng) [Root] Extract
30 mg
†
Fenugreek (Trigonella foenum-graecum) [Seed]
Extract (Std to 50% Saponins)
30 mg
†
Boron Citrate (Containing 5% Boron)
6 mg
†
BioPerine© Black Pepper (Piper nigrum) [Fruit]
Extract (standardized to contain 95% piperine)
3.8 mg
†
* Percent Daile Values are based on a 2000 calorie diet
† Daily Value not established
Other ingredients. Hypromellose (Veggie Capsule), Maltodextrin, Silica Magnesium Stearate.
How to take SBULK
According to the label, they recommend the following:
Adults, take 3 capsules approximately 30 minutes before your breakfast . Directions should be followed on both workout and non-workout days.
SBULK side effects
Despite the product being "all-natural," it doesn't mean it's guaranteed to have zero side effects.
There's a chance that your body will not respond well to one or more of the ingredients listed in the formula. What I will say is, compared to the side effects you would have experienced with actual steroids, any side effect you would feel with SBulk should be fairly minimal.
Some SBULK reviewers have said they experience oily skin, but the benefits of gaining muscles and reducing muscle soreness outweigh this.
Is SBULK safe to take?
Yes, Brutal Force Supplements SBulk is safe for many reasons. It's all-natural, the dosages are in the middle, and the presence of premium ingredients means there is evidence of quality testing.
Then, we also have to take into account the side effects you would have experienced with Sustanon 250. Sustanon 250 is known to cause:
Pain at the injection area
Acne
Nausea
Itching
Changes in liver function and cholesterol levels
Mood alterations
Muscle pain
When you think about it, it's better to have a bad case of diarrhoea than to have an abnormally functioning liver. In this context, SBulk is definitely the safer alternative.
What does SBULK do?
SBulk is designed to improve:
Muscle growth: Testosterone is a growth hormone, so having more of it at any given time can lead to better gains.
Raw strength: Increasing testosterone levels can translate to increased exercise performance and endurance.
Fat burning: Testosterone can ignite the fat furnace in you.
How fast does SBULK work?
Brutal Force Supplements SBulk primarily works by reducing nutrient deficiencies that may contribute to age-related testosterone decline. There are ingredients that can definitely boost testosterone production, but the core of the formula is more about maintaining normal levels than increasing them.
The website also has the following to say:
"SBulk has been uniquely formulated to mimic the impact of Sustanon, a steroid popular in the UK. Only SBulk increases T levels naturally instead of with illegal steroids.
What really separates SBulk from the competition is that it contains an amino acid regulator that helps in hormone production, particularly with luteinizing hormones.
This formula increases your body's strength and stamina, and your libido!"
Who should not take SBULK?
From a safety viewpoint, SBulk's formula should be generally safe for most users unless you are one of the following:
Someone taking prescription medications for hormones
People in poor health conditions
Minors or those too young to take supplements
From a practical perspective, Brutal Force Supplements SBulk works best for those who are experiencing testosterone decline. This means men who are in their 40s and up, as testosterone decline is significantly noticeable once you're over 40. Those 40 and below should first try to solve their testosterone issues with a good diet and healthy lifestyle.
Where to buy SBULK
The only place you can buy SBulk from is direct from the manufacturers website here.
Options and Prices
1 month Supply (30 servings): $54.99
2 months + 1 month free: $109.98
4 months + 2 months free: $219.96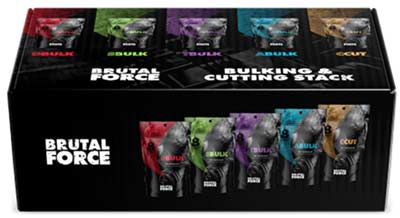 If you like SBulk, or if you want to try products that are supposed to synergize with SBulk, other Brutal Force products include:
DBulk (Dianabol)
ABulk (Anadrol)
TBulk (Trenbolone)
My Verdict on SBULK Brutal Force
I've seen far too many supplements in my life, and a good chunk of them are testosterone boosters. Among them all, SBulk stands somewhat in the middle of the list. It's not so bad that I wouldn't recommend it for new and seasoned users, but it's not so great that it should be on your to-buy list right away.
The formula SBulk has is definitely based on sound science, with plenty of human studies reporting how each ingredient can positively affect testosterone levels. The ingredients are in their premium or potent forms, and the synergy is definitely evident.
What I don't think SBulk has is enough "oomph," and by oomph I mean dosage.
The ingredients are definitely powerful, but the dosing on each one looks a bit mild compared to some of the juggernauts in the testosterone-boosting industry. Still, the product does have BioPerine, so maybe it's going to work like the ingredients had more dosage per serving.
Overall, I think Brutal Force Supplements SBulk is a few notches higher than "okay" in terms of potency, premium factor, and formula design and synergy.
It's not the most powerful out there, but it should be a good starting product for those who want to have a go at boosting testosterone levels.
References
Barbonetti A, Vassallo MR, Felzani G, Francavilla S, Francavilla F. Association between 25(OH)-vitamin D and testosterone levels: Evidence from men with chronic spinal cord injury. J Spinal Cord Med. 2016;39(3):246-252. doi:10.1179/2045772315Y.0000000050 [Last visited May 30 2021]
Cinar V, Polat Y, Baltaci AK, Mogulkoc R. Effects of magnesium supplementation on testosterone levels of athletes and sedentary subjects at rest and after exhaustion. Biol Trace Elem Res. 2011 Apr;140(1):18-23. doi: 10.1007/s12011-010-8676-3. Epub 2010 Mar 30. PMID: 20352370. [Last visited May 30 2021]
Fallah A, Mohammad-Hasani A, Colagar AH. Zinc is an Essential Element for Male Fertility: A Review of Zn Roles in Men's Health, Germination, Sperm Quality, and Fertilization. J Reprod Infertil. 2018;19(2):69-81. [Last visited May 30 2021]
Melville GW, Siegler JC, Marshall PW. Three and six grams supplementation of d-aspartic acid in resistance trained men. J Int Soc Sports Nutr. 2015;12:15. Published 2015 Apr 1. doi:10.1186/s12970-015-0078-7 [Last visited May 30 2021]
Pizzorno L. Nothing Boring About Boron. Integr Med (Encinitas). 2015;14(4):35-48. [Last visited May 30 2021]
Badmaev V, Majeed M, Prakash L. Piperine derived from black pepper increases the plasma levels of coenzyme Q10 following oral supplementation. J Nutr Biochem. 2000 Feb;11(2):109-13. doi: 10.1016/s0955-2863(99)00074-1. PMID: 10715596. [Last visited May 30 2021]