Before I get to the nitty gritty of Instant Knockout vs PhenQ, let's first have a quick review of what fat burners are and the common ingredients found in fat burners.
You would not go far outside your house without coming across someone who was trying to lose weight. And it's perfectly justifiable: modern conveniences have made it too easy for the average person to gain weight, and too difficult to achieve weight loss goals.
The best way to achieve your weight loss goals is by simply having a caloric deficit. This can be done by simply eating less of what you're currently eating every day, even if it's just one less bottle of soda a day. Over time, this can result in weight loss.
You can also help the body burn fat by exercising. The great thing about exercise is how you don't have to own any special equipment to get fit.
A good exercise routine can simply be you going outside your house, climbing up or down stairwells, and walking back home. The idea is to get the body moving, and combined with a calorie-deficit diet, you're bound to achieve your weight loss goals in no time.
But, you can also choose to add more "spice" to your weight loss routine by taking fat burners, or supplements formulated to help burn fat.
There are many fat burners out there, but to help you narrow your choices, I've decided to compare and contrast two popular fat burners in the industry: Instant Knockout vs PhenQ.
Instant Knockout vs PhenQ: What are Fat Burners?
Fat burners are exactly what they sound like: Supplements formulated to help someone burn a lot of fat. Most take fat burners to help shred extra calories, with the ultimate goal of weight loss. Some take fat burners for cutting purposes, or to help show off their muscular build after a period of bulking.
Below are some of the more common ingredients included in fat burners:
Caffeine
Caffeine is the world's most popular psychoactive drug. It's commonly sourced from coffee, but even tea drinkers get some bit of caffeine exposure depending on the leaves they serve. It is, of course, known as a stimulant that pretty much wakes you up.
Other than stimulation, some suggest caffeine is also a fat burner because it's suggested to have appetite-suppressing properties as well as some modest bump on our metabolism.
Green Tea Extracts
Green Tea extract is your common antioxidant, but one of the best ones when it comes to fat burning. The secret lies in its active compound epigallocatechin gallate or EGCG. EGCG has been attributed to lowering levels of fat on top of the other wholesome goodness you get from drinking a cup of tea.
Fibre
Fibre in supplements are soluble fibre. Soluble fibre turns into a gel-like substance upon contact with water, such as when we mix them in a glass and drink them. This promotes healthier digestion while also reducing appetite. Glucomannan is a good (and quite common) example of fibre in fat burners.
Fibre can also help manage blood sugar levels. Blood sugar levels, specifically unstable blood sugar levels, can make you feel hungry even though you're not starving.
Adaptogens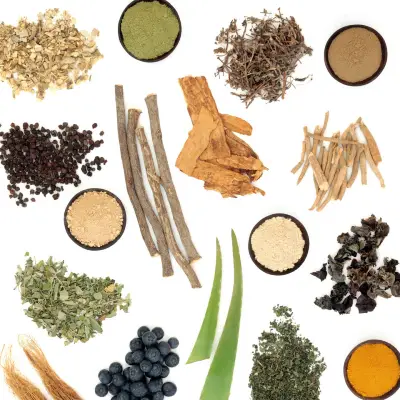 Adaptogens are herbs and extracts that can promote better mood and reduce stress. Why is having an ingredient that reduces stress critical in fat burners? Because going on a weight loss diet is stressful!
Famous examples include ashwagandha and rhodiola rosea.
Cayenne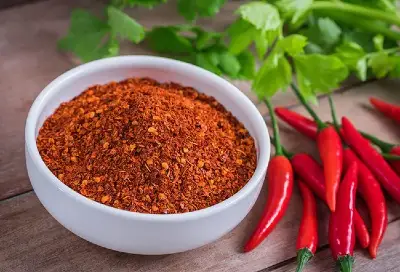 Supplement cayenne is literally the cayenne you see in pizza places, except in concentrated forms. They make us feel warm and can cause us to sweat a lot, which is how you know the cayenne is working. This warm and sweaty sensation is called thermogenesis, where the body is burning fat to help cool us down.
The best fat burning supplements will always carry at least one of the best fat burning ingredients for maximum fat loss.
Instant Knockout vs PhenQ: Comparison
We'll discuss their similarities and difference across three parts:
Formula: In this part, I'll go about each supplement's formula design for fat loss and see if they have the right ingredients or if they possess ingredient synergy. I'll also go over the doses if they're too much or too little for fat loss.
Ingredient Quality: This part will be about whether the ingredients used are high quality or generic. I'll also be on the lookout for standardized ingredients or branded forms.
Pricing: The price of a product is just as important as the first two, so this is just to determine whether the formula + ingredient quality justifies the price per bottle. I'll also be checking for "bundles" or other forms of discounts.
After which, summarize my findings and conclude who is the better fat burner or weight loss pill, and who has better value between the two fat burner supplements.
Instant Knockout Fat Burner formula
Instant Knockout's formula is what I call "traditional," as it doesn't veer from making a fat burner from ingredients known to work. It also appears to be well-rounded as far as fat loss and performance is concerned.
It contains:
Vitamin D3 (as cholecalciferol)(vegan), Vitamin B6 (as Pyridoxine HCl), Vitamin B12 (as Cyanocobalamin): These are your standard vitamins for better energy metabolism. Nothing too fancy, but we do note the dosages used can help replenish lost vitamin stores after a hard day at the gym.
Glucomannan (Amorphophallus Konjac) (root) (Standardized to 95% Glucomannan): This is your standard soluble fibre. As a soluble fibre, glucomannan gels upon contact with water, or in our case, our stomach juices. When it gels, it makes us feel "full," which can contribute to better appetite control, especially after a hard workout.
Green Tea Extract (Camellia Sinensis) (leaf) (Standardized to 45% EGCG, 95% Polyphenols): This is one of the best in the business when it comes to fat burning, and it's all due to its EGCG content. EGCG is said to be responsible for all the things that make drinking green tea healthy for us, which include lowering fat mass.
Caffeine Anhydrous: You and I know what caffeine is and what it can do. It stimulates the senses and drives us to work out hard, which translates to more calories burned.
We do have to note that you'll receive 300 mg of caffeine per serving.
300 mg is, by all means, A LOT of caffeine, as it's equivalent to about three cups of coffee. If you have issues with stimulants, you may want to think twice about Instant Knockout.
L-Theanine: Theanine is an anti-stress compound found in tea. It's often used to help promote a calmer demeanor or just reduce the stress of dieting. In fat burners, theanine is also used to help offset some of caffeine's side effects, such as the jitters and the "crash."
Cayenne Powder (Capsicum Annuum)(fruit): Cayenne works by heating the body up, causing us to sweat. This heat is due to the breakdown of fat, which means the warmer you feel, the more fat is being burned. This breakdown of fat is called thermogenesis, and it's melting the stubborn fat away with each serving.
Black Pepper Extract (Piper Nigrum)(fruit)(standardized to 95% Piperine): Black pepper is added for its ability to improve ingredient absorption.
Instant Knockout Ingredient Quality
Instant Knockout's formula is nothing short of potent. It contains premium fat burners which all synergize to give users the best burn they can get per serving. The ingredients are standardized, which is a sign of potency in any high-quality supplement.
The dosages are good enough for the type of burn you can feel for long periods. I also think the addition of black pepper is a good way to finish the formula as it can speed up absorption, which can translate to the fat burner working faster.
Instant Knockout Benefits
Appetite control, lower sugar cravings
Super stimulation
High efficiency fat burning
Increased body temperature/thermogenesis
MMA Fighters will love the bottle design
Instant Knockout Price
1 Bottle: £35.00
2 Bottles: £70.00
3 Bottles + 1 Free: £105.00
I think the pricing is fair for the formula you'll get. The ingredients used are in their most potent forms, the dosages are apt, and there is evidence of research and synergy.
The only nitpick I have about Instant Knockout is the high amount of caffeine it possesses per serving, which can be a major let down for a good number of its potential buyers.
And hey, the design of the bottle should attract casuals and MMA fighters alike. The little touches always go a long way.
PhenQ Fat Burner formula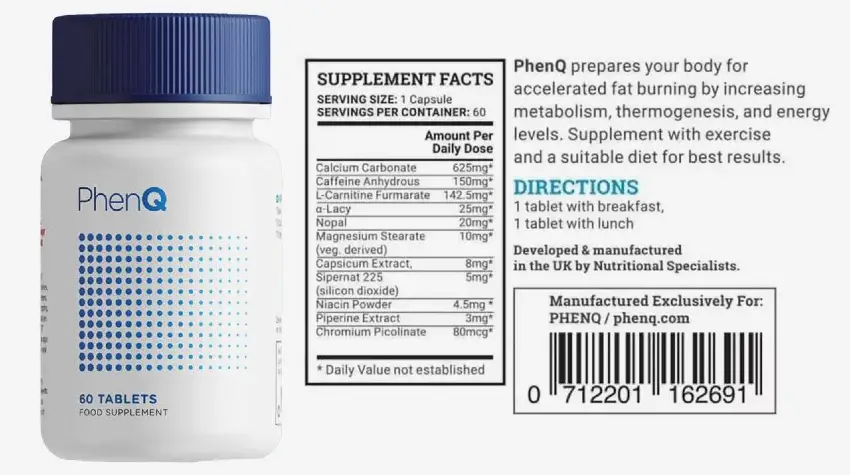 PhenQ's formula is not as traditional as Instant Knockout. In fact, I think it provides a whole new take on formulas for weight loss supplements. Is new always better? Let's see.
It contains:
Calcium Carbonate: I was surprised that the first ingredient we see is CHALK. You read that right: Calcium carbonate is the chemical name for the same chalk teachers in the 90s used to write with.
I did some research and found that there seems to be a link between thermogenesis and calcium supplementation. I like science, but I'm not fond of ingesting chalk to lose weight.
Caffeine Anhydrous: Caffeine is here again, but this time in just 150 mg, or about 1.5 cups of coffee worth. It's a light boost, which should be more acceptable for the stimulant-averse crowd.
L-Carnitine Fumarate: L-Carnitine is a fat burner known to funnel fatty acids into our cells to be metabolized for muscle energy. This form of L-Carnitine, on the other hand, is often studied for its bone strength benefits. I'm not sure if this is better than plain L-Carnitine or not, but I think the dosing isn't that good for potency.
α-Lacys Reset®: This ingredient is actually a combination of alpha lipoic acid and cysteine. This complex supposedly helps improve fat metabolism while also helping with ageing effects. I like how PhenQ has this ingredient here, if only to show us something new.
Nopal: This is actually a type of fibre from the nopal cactus. As with Instant Knockout's glucomannan, nopal fibre can help with appetite suppression, which is important when you want to lose weight.
Capsicum Extract: Remember Cayenne? This is its more concentrated form. Normally, I'd nitpick the dosage, but the fact that this is an extract instead of just plain powder made me give it a pass.
Piperine Extract: This is the same ingredient as black pepper, but this is the actual compound you want to isolate for bioavailability.
Chromium Picolinate: This amazing fat burning mineral can work in really tiny doses. In fact, a dose of about 200 mcg is considered standard in the fat burning industry.
It works by managing blood glucose levels. You see, appetite can be triggered by low blood sugar or periods where your blood sugar just drops, especially after a workout.
Chromium helps the body maintain some balance, which can prevent you from overeating.
Phenq Ingredient Quality
I'm not really impressed with the overall ingredient quality of PhenQ Fat burner. Most of the ingredients are generic or not really that well studied when it comes to weight loss.
I do like the attempt to synergize the ingredients, especially with caffeine and l-carnitine working as proven ingredients in fat burning supplements.
But the overall burn feels flat, and the overall potency is just too modest in terms of dose.
Major PhenQ Benefits
Capsicum extract for thermogenesis
Calcium for burning fat
Light stimulation if you don't like too much caffeine
PhenQ Price
1 Bottle: £49.95
2 Bottles + 1 Free: £99.95
3 Bottles + 2 Free + FREE ADVANA CLEANSE: £149.95
As far as pricing, PhenQ comes out really expensive for the formula it gives us. Even if you were to buy the 3 + 2 combo, I think you would be better off buying a pack of Instant Knockout Fat Burner if you're going for a long-term fat burning supplement.
Instant Knockout vs PhenQ: The Final Verdict
While the two fat burners work completely differently, it's only fair to judge them based on overall burn and value for money. Comparing the two fat burners together, I think it's safe to say that Instant Knockout just blows PhenQ away.
Instant Knockout supplement has more premium ingredients, higher doses, and has always been a candidate for best fat burner in many weight loss pills lists. The formula synergy is guaranteed to ignite your body's fat burning process and is sure to help you lose stubborn fat.
Instant Knockout vs PhenQ: Frequently Asked Questions
What is the strongest fat burner on the market?
The strongest and best fat burners in the market will have two or more of the best fat burning ingredients. These are your green tea extract, caffeine, cayenne, and your soluble fibres.
How long does it take to see results with PhenQ?
Seeing that PhenQ is the milder of the two supplements, the results would take longer to manifest. This is why I'd rather you choose Instant Knockout for lean muscle, usable energy, and for generally amazing weight loss results.